Crossroads
(2002)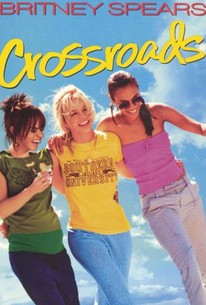 Movie Info
The story of three childhood friends, Lucy, Kit and Mimi, who, after eight years apart, rediscover their friendship on a cross-country trip. With barely a plan, practically no money, but plenty of dreams, the girls catch a lift with Mimi's handsome, mysterious friend Ben in his '73 Buick convertible. Along the way they not only gather experiences that will change their lives forever, but they also discover how important it is to hold onto their hearts' desires. girls embark on an adventure that will teach them just how important it is to hold on to one's desires.
News & Interviews for Crossroads
Critic Reviews for Crossroads
Audience Reviews for Crossroads
Definitely not the best. At the time I bought this DVD, when it was a new release, I did quite like Britney and her first album was a guilty pleasure, but a rewatch 14 plus years later and I'm sure seeing its flaws! Britney looks freaking old for the part (I'm sure a lot of it is the ghastly tan), and acting isn't her greatest skill. She's not terrible, particularly by the end as the movie gets a little more serious, she seems to have grown more into the part, but in the beginning she's not overly convincing. The shot of her dancing and singing in her undies - clearly to draw in the male viewers! The plot is wafer thin, but there is some nice moments between the friends and those who enjoy her singing might enjoy those few scenes.
Nicki Marie
Super Reviewer
I really loved this film! One of my all time favourite films. A must see!
Bethany Murphy
Super Reviewer
Very surprisingly I quite enjoyed this?! Yes it's very cheesey, what did you expect? I'm sure most people have panned this just because Britney is in it? It has a TV film feel to it but it's actually a pretty decent road trip film as a group of once close young friends head to L.A. together for different reasons. I thought Britney acted a lot better than I expected and it isn't overloaded with her songs for those who aren't fans of hers. It will probably be better known for Britney dancing around in her underwear, but it's not a bad film by any means.
Crossroads Quotes
| | |
| --- | --- |
| Lucy: | (last lines) This time, we didn't make any wishes for the future. We said goodbye to our past. Now, none of us have any idea where life's gonna take us, because what we have is now. And right now, we have each other. |
| | |
| --- | --- |
| Lucy: | (in the hotel bathroom) We are at a hotel with a murderer! |
| Mimi: | He's not a murderer okay? It's just a rumor! (they all peek out the door where Ben is playing his guitar on the bed) |
| Ben: | Hey, what's up? (the girls wave and go back inside the door) |
| | |
| --- | --- |
| Henry: | (Lucy starts undressing, then stops) What's wrong? Why are you stoppin'? |
| Lucy: | Henry, this isn't how I planned it to be. |
| Henry: | That's funny, because this is exactly how I planned to be! |
| | |
| --- | --- |
| Lucy: | Is this it? |
| Ben: | No, but what if it was and I just really sucked at cheerin' people up? |