Conspiracy
(2001)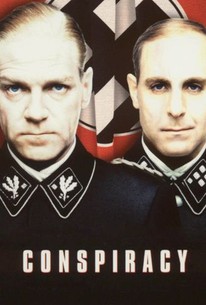 Movie Info
In January of 1942, 15 of Adolf Hitler's right-hand men gathered together for a special meeting in Wannsee, in which over the course of two hours they debated the pros and cons of Hitler's latest directive and the best way to implement it. By the time they left, they had laid the practical groundwork for the "Final Solution," with the execution of every Jewish person in Europe as their goal. A transcript of the meeting has survived, and that document provided the basis for the screenplay for Conspiracy, which dramatizes (in real time) the meeting that led to the greatest crime of the 20th century. Conspiracy stars Kenneth Branagh, Colin Firth, Stanley Tucci, and David Threlfall; the film was produced for the premium cable network HBO, where it first aired on May 19, 2001.
Critic Reviews for Conspiracy
Audience Reviews for Conspiracy
½
A quiet little drama, delivered by naught but quality performers, about the decisions about exactly how to best exterminate an entire race. With both sublime writing and direction, this one will stay with you.
Kevin M. Williams
Super Reviewer
½
Hitler's right-hand men gather to plan the logistics of the "final solution." A "bottle movie," Conspiracy is a tense and compelling drama. The primary point of the film is made in silence; there are several beats in which a character says something morally objectionable, and the camera cuts to reaction shots of the whole group, who remain silent. It's like the filmmaker is saying, "Isn't it amazing that no one is speaking up now?" The film is Martin Niemöller's "Nobody was left to speak for me" poem in dramatic form. Kenneth Brannagh, Colin Firth, and Stanley Tucci each give strong performances, Brannagh and Tucci exhibiting dogged efficiency and competence. Overall, Conspiracy is a short but haunting exploration of the beginning of the Holocaust.
Jim Hunter
Super Reviewer
A lot has been written recently about the resurgence of TV drama, and how the most interesting stories and ideas are now being presented on the small screen rather than in the cinema. This is of course a big generalisation - there are still a great many brilliant films being made each year with interesting stories, just as so much of mainstream TV is utter trash. But Conspiracy is a good example of how TV movies have grown in stature and presentation, tackling a meaty subject with aplomb and boasting very high production values. I've spoken a fair bit in the past about how we should not look down on TV movies. Some stories are more suited to the big screen or small screen depending on their scope, a matter I discussed in detail in my negative review of The Rutles: All You Need is Cash. I've similarly spoken about how biopics work best when they focus on one event as a microcosm from which wider themes can be borne out - a point I discussed in my recent review of Nixon. From these perspectives, Conspiracy is a triumph on both counts. It has very clear intentions about its subject matter, being both conscious of and content with the limitations afforded by its given medium. Its story is ideally suited to television, being completely self-contained but hinting at wider events and ideas, leaving the viewer wanting more even with a confident, clinical ending. While TV movies once had a reputation for being sub-par and riddled with short-cuts, this has been laboured over to the last detail. The film is certainly mounted very handsomely, capturing the period setting of the Wannsee Conference with the same level of detail presented in either Band of Brothers or Valkyrie. But whereas Bryan Singer's film couldn't decide whether it was a talkie drama or an action film with talking in it, this presents itself as a talkie drama from the first to last moments. The camerawork is solid and efficient, being reminiscent of the dinner party scenes in Gosford Park (but lacking Robert Altman's cinematic polish in the close-ups). When The Reader was attracting Oscar attention back in 2008, Mark Kermode raised the issue of accents in films. He argued that, considering the international, global nature of cinema, having actors speak English in a foreign accent was more distracting and less convincing than said actor learning the language of their character, or casting a native speaker of said language in the first place. We're all familiar with how easily the German accent can be caricatured, and how its comic potential can often turn a serious portrayal into something unintentionally silly. Conspiracy is interesting in this regard in having a largely British cast, all playing Germans, speaking in their own English accents (or American, in the case of Stanley Tucci). Aside from odd words of German - mainly "Heil Hitler!" in the introductions - English is spoken throughout, and while all the characters are broadly well-spoken there is no attempt made to conform to a particular accent as standard, be it RP or anything else. There are several conclusions we can draw from this creative decision. One possible reason for it is that the BBC and HBO are being cynical, believing that English-speaking audiences are too lazy to read subtitles and that the film would stand a better chance if everyone was speaking 'normally'; with so many famous faces on screen, cod German accents would be a distraction. The film does, perhaps unintentionally, fall into the Hollywood cliché of casting British actors as villains (with the exception of Tucci who, notwithstanding his ability, may have been cast to appease American audiences). Another, gentler possibility is that director Frank Pierson is making a point that the characters wouldn't be conscious of each other's accents: they are all speaking German, but we are hearing it in English as a dramatic device, and what is important is what is said, not in what language it is delivered. Whatever the intentions or implications of this device, it does work in making the drama flow, and it is not a problem which undermines the drama in the moment. As much as we may ponder the creative intentions behind it, this pondering does not distract us from the matter in hand. In terms of its political or historical position, Conspiracy is very much a product of revisionist history. We are meant to find the actions of Heydrich and his colleagues chilling, but what is more chilling is how calmly and clinically they deal with these matters, treating millions of lives like statistics and very rarely becoming emotional. In this regard the film clearly draws on two revisionist sources: Hannah Arendt's The Banality of Evil, written during the trial of Adolf Eichmann in Jerusalem, and Stanley Milgram, whose experiments in the 1960s showed how power can supersede morality. Both Arendt and Milgram believed that high-powered Nazis like Heydrich and Eichmann were just "bureaucrats shuffling papers", whose compulsion to obey their Führer overrode any kind of moral principles. Whether you believe Arendt and Milgram's scholarship or not, Conspiracy does set out a compelling and chilling argument about how the Final Solution came about. It depicts the Wannsee Conference in clinical detail, arguing that the extermination of the Jews was motivated as much by short-term political concerns as it was by any long-standing anti-Semitic ideology. The Conference is like a government Cabinet meeting to decide the budget; every department is fighting over their piece of the pie, arguing why their projects are deserving of money and manpower. When the various solutions are discussed (sterilisation, deportation, gas chambers etc.) they are assessed in terms of efficiency rather than morality. The title of the film relates to a number of different conspiracies occurring within the film, most of which come to fruition. There is the conspiracy of the Holocaust itself, which is being organised behind closed doors with no trace of evidence remaining (save the one copy of the transcript on which the film is based). There is Heydrich's personal conspiracy to bring the different wings of the Reich government in line with his ideas. He arrives at Wannsee with the solution already in mind and under construction, and slowly twists everyone round to his way of thinking. Then there is the related conspiracy of the SS to run roughshod over the other government agencies. They use Germany's faltering fortunes in Russia to assert control, arguing that only the military can effectively deal with the Jewish crisis. There are also minor conspiracies, which are referred either in then narration or by the characters: the Czech plot to assassinate Heydrich, the conflict between Bohrmann and Goering, and the rumours of Heydrich's Jewish ancestors. In every case we get a picture of a government which is clinical in execution but fractious in construction; it epitomises Hitler's tactic of playing departments off against each other, giving out contradicting orders to consolidate his personal power (and, by extension, those closest to him - whoever they may be). Conspiracy is anchored in the brilliant central performance of Kenneth Branagh, who inhabits Reinhard Heydrich to a scary degree. He takes us in with how friendly and jovial he seems, but just beneath the surface lies a clever man, deeply manipulative and ice cold. He ignores all input that is contrary to his aims, flatters to deceive, and has a clear idea of what he wants before he has even allowed his colleagues to speak. The cast around Branagh are just as impressive. Colin Firth is very good as Dr. Stuckart, co-creator of the Nuremberg Laws; he gets a great speech around halfway through, defending the rule of law with a rigour and passion reminiscent of Sir Thomas More in A Man For All Seasons. David Threlfall is completely unrecognisable from his later work in Shameless, turning in a restrained but imposing turn as Dr. Kritzinger. Stanley Tucci doesn't make a huge impression as Eichmann, but that is perhaps in keep with the character's status as a bureaucrat and organiser, rather than a leader. There are a number of small problems which hobble Conspiracy. Despite its lavish production values, it is a little stagey; Pierson's camera movements don't always prevent the meeting room from feeling restrictive, and the dialogue scenes outside of it are informative but symptomatic of the belief that more locations means greater drama. The opening section before Heydrich arrives is a little clumsy, consisting largely of exposition which is rendered unnecessary by the introductions at the start of the meeting. And the narration at either end is just as unnecessary: the film gains no weight or tension from it, and its content could have been conveyed just as well in title cards alone. Conspiracy is an impressive and highly watchable drama which makes a very good fist of a difficult subject matter. The story is told efficiently and intelligently with strong attention to detail, supported by good performances and subtle visuals. Debates about its political views or its creative choices regarding accents will continue, but as a piece of dramatic storytelling it is a good reminder of the power and scope of television.
Daniel Mumby
Super Reviewer
Conspiracy Quotes
There are no approved quotes yet for this movie.