Showtime
(2002)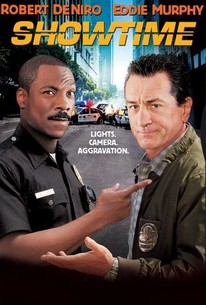 TOMATOMETER
AUDIENCE SCORE
Critic Consensus: Showtime starts out as a promising satire of the buddy cop genre. Unfortunately, it ends up becoming the type of movies it is satirizing.
Movie Info
Robert DeNiro continues to lampoon his tough-guy persona with this spoof of buddy cop movies that teams him with comic co-star Eddie Murphy. DeNiro is L.A.P.D. detective Mitch Preston, a gruff, no-nonsense 28-year veteran whose bust of a drug gang is botched one night by Trey Sellars (Murphy), a bumbling patrolman who's really a frustrated actor at heart. When Mitch's aggravation is captured by a television news crew, he fires his gun in their direction and becomes an instant media celebrity, while earning himself a temporary suspension at work. After his fame draws the attention of network TV producer Chase Renzi (Rene Russo), Mitch is soon informed that the only way he can get back to work is to allow a production crew to trail him on the job for a new cop reality series called "Showtime". In order to make the taciturn lawman more palatable to the viewing public, he's paired with the camera-friendly, fast-talking Trey. The new partners drive each other crazy, but their mismatched sensibilities make for great TV, while their newfound fame has its advantages in getting them back on the trail of those escaped drug dealers, who possess a powerful new weapon. Showtime co-stars Frankie Faison and William Shatner, who sends up his own TV cop role in T.J. Hooker. ~ Karl Williams, Rovi
News & Interviews for Showtime
Critic Reviews for Showtime
Audience Reviews for Showtime
I came to this film because a blogger on Facebook had opined that 2002 was the year DeNiro decided that he didn't give a damn anymore. I fully expected the worst, but no, what one gets is a serviceable buddy cop comedy, no more. Sure, an A-list crowd and presentation, but still just one more in a slew of these things.
Kevin M. Williams
Super Reviewer
Showtime a lot of LOL s Movies.
It's not the worst thing Eddie Murphy has ever done, but it might be De Niro's. It is a failed attempt at a buddy cop revitalization. It has very little comedy that isn't stale and overdone. It was a complete waste of two good actors. Zero originality.
Conner Rainwater
Super Reviewer