Human Nature
(2002)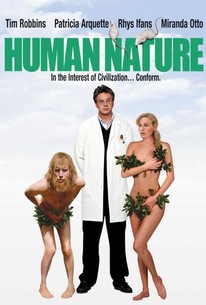 Movie Info
Video director Michel Gondry and scriptwriter Charles Kaufman -- who shot to fame after penning Being John Malkovich -- collaborate on this bizarre fable about human behavior in and out of society. The film opens by quickly introducing the three leads -- Lila (Patricia Arquette) who is locked away in prison; Puff (Rhys Ifans) who is testifying before Congress; and Nathan Bronfman (Tim Robbins) who is sitting in a glowing white afterlife waiting room with a bullet hole in his head. Rewinding to the beginning of the story, the film shows Lila as a girl about to enter womanhood. Unfortunately, puberty goes horribly awry and she starts to grow thick hair all over her body. After performing as Queen Kong in a circus freak show, she chucks it all and goes to live in the forest, where she becomes the best-selling author of a misanthropic hard-line ecological tome. At age 30, her itch for male companionship becomes overwhelming and she ventures back into the city. She is helped by electrolysis guru Louise (Rosie Perez), who not only makes Lila presentable to society, but introduces her to Nathan, a 35-year-old virgin who, as a scientist, has devoted his life to teaching table etiquette to lab mice. While showing Nathan the joys of the wild outdoors, Lila and her new beau discover an extremely hirsute feral man whom they dub Puff. Placing him a cage in his lab, Nathan sets out to teach Puff the ways of polite society while dreaming of fame and fortune. The first task is to curb Puff's enormous sexual appetite -- any time he catches sight of a female, Puff either tries to hump her or masturbates vigorously. Nathan yokes him with an electric collar that shocks him any time he acts unseemly. Unfortunately, the humans on the other side of the cage can't quite control their libidos either: Nathan succumbs to the incessant double entendres of his saucy French assistant Gabrielle (Miranda Otto) while Lila finds an animalistic lust for Nathan's science experiment. This film was screened at the 2001 Cannes Film Festival.
Critic Reviews for Human Nature
Audience Reviews for Human Nature
Shocking a load of crap this movie is, considering the amount of talent involved in it. Especially the director's and writers track record has been great, which makes you wonder what everyone was smoking doing this. They should most certainly be ashamed of themselves. Avoid at all costs, even if you like the Björk videos it mimics.
½
This movie's amateurish directing (Michel Gondry has done much, much better) and strangely stilted acting (despite some significant talent) detracts greatly from Charlie Kaufman's great, thought-provoking, deadpan script.
Sam Barnett
Super Reviewer
½
Its really something different. Kaufman is a genius but this direction he made for Human Nature asks a question but never fully answers it. It picks on human sexuality but never truly explores it. Its kind of an open ended question of a film.
Human Nature Quotes
There are no approved quotes yet for this movie.