Enigma
(2002)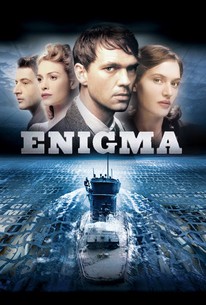 Movie Info
An old-fashioned spy thriller in the vein of 1940s espionage movies and based on an international best-selling novel, Enigma stars Dougray Scott as Tom Jericho, a young mathematics expert who was a central force in the decoding of a Nazi network and has just been released from a sanitarium for an apparent nervous breakdown. He is put back to work in Britain in 1943, where he is called upon to regear their computer system and determine a new German code. If he fails to discover the information, the war's largest convoy of Allied ships heading to Great Britain from the U.S. will be targets for massing Nazi U-boats. Jericho learns of a possible traitor who has tipped off the Germans of the code-cracking, and who may be in the form of Claire (Saffron Burrows), a sexy blonde who has disappeared and who was once his girlfriend. Jericho must now, with the aid of an intuitive clerk (Kate Winslet), calm his infatuation with Claire, who may be his undoing, as well as single-handedly finish his assigned task, which has been said to take an entire team about one year's time. Directed by veteran filmmaker Michael Apted, written by Oscar-winning scribe Tom Stoppard, and co-starring Jeremy Northam, Tom Hollander, and Robert Pugh, this is the first collaboration of high-profile producers Mick Jagger and Lorne Michaels, the former producing under his production company Jagged Films.
Critic Reviews for Enigma
Audience Reviews for Enigma
Decent retelling of the real life story of the cracking of the Enigma code
Stuart Brooks
Super Reviewer
½
The story of the breaking of Nazi codes during World War 2 is surely an interesting topic. Sadly, this movie does not entirely live up to that promise. The look isn't exactly cinema standard, it often feels like a British TV movie with its soft-focus flashbacks. Those, while telling an aspect of the story that's important later on, cost the film some pace in the beginning. The overall good cast and the decent last 30 minutes still make for an entertaining movie, but somehow there was more potential in this. It left me a little too indifferent and will probably be forgotten pretty soon.
Thriller about Britain's secret code breakers during World War II. Kate is great in this movie.
Candy Rose
Super Reviewer
Enigma Quotes
There are no approved quotes yet for this movie.