Shiner
(2001)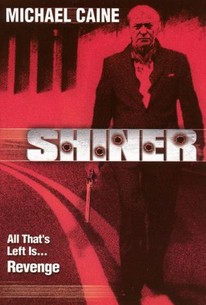 Movie Info
A minor-league criminal suddenly finds himself in deep trouble in this thriller. Billy "Shiner" Simpson (Michael Caine) is a man who has spent much of his life making a living by skirting the law, but he thinks he may finally have a legitimate path to the big time managing his son Eddie (Matthew Marsden), an up-and-coming boxer nicknamed "Golden Boy." Eddie is set to fight an American champion in a prizefight, and Billy is convinced Eddie can't lose. Even after Billy's daughter Georgie (Frances Barber) tips off the cops that he has been staging illegal underground brawls, Billy is able to convince the police not to arrest him until after Eddie's big bout. But Eddie loses in the second round, and Billy flees the arena with his son in tow. Billy and Eddie are followed by a gunman who shoots and kills the young fighter, and a distraught Billy becomes convinced someone got to Eddie and forced him to take a dive. As Billy tries to avoid both the law and the bookies with money on Eddie, he challenges a number of people he believes might know what really happened, including Eddie's coach Vic (Gary Lewis), the down-on-his-luck American promoter Frank Speeding (Martin Landau), Mel (Andy Serkis), one of Billy's henchmen (who can't say where he was when Eddie was killed), and Georgie and her husband.
Critic Reviews for Shiner
Audience Reviews for Shiner
½
"I've never watched a movie with Michael Caine that I haven't at least liked. But I guess that streak ends with this film. I didn't like any of it. I was bored. There was no real action. The plot is weak. The acting is sloppy. Michael's character wasn't one bit likeable, which made it even easier to dislike this film. I was expecting some kind of mob action and got a petty fight promoter who is banking all his families money on his son, "The Golden Boy". I just couldn't wait for it to be over with. It didn't turn out to be what I was hoping for. Which was a good suspense-action-thriller."
♥˩ƳИИ ƜѲѲƉƧ♥
Super Reviewer
½
A first-rate hard-boiled brutal British crime drama, where Sir Michael Caine delivers a intense and powerful performance, as Billy "Shiner" Simpson a gangster/boxing promoter with serious money and legal problems, who bets everything in a make-or-break title fight, between his terrified 20-year-old son and a American boxer of vastly superior ability, when his son loses, Shiner concludes that someone forced his son to throw the fight. Before Shiner can talk to his son, he is shot right in front of him, by some unknown and unseen person. Shiner now seeks revenge, and will stop at nothing to find who is responsible for his son's death. A fascinating character study of a paranoid, bullying, ego-driven man, who can't accept that his problems are all self made. Fine direction by John Irvin, with superlative supporting performances by Martin Landau, Frances Barber, Claire Rushbrook, Andy Serkis, Gary Lewis, Danny Wedd and Kenneth Cranham. A grim tale worth seeing for Caine's show stopping performance. Highly Recommended.
Danny Rovira
Super Reviewer
Shiner Quotes
There are no approved quotes yet for this movie.