They
(2002)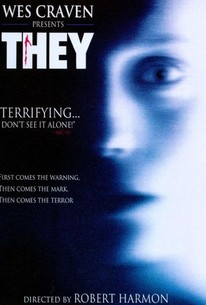 Movie Info
What are They planning to do to Callisto Balandash, the elegant aesthete and art collector, secure in his country house, surrounded by his period furniture, Japanese wood carvings, his cubist Picasso, his nudes, and immersed in the aroma of quince mingled with "Chevalier d'Orsay" while discussing Pure Form with his beautiful actress-mistress Spika, Countess Tremendosa?
Audience Reviews for They
½
Creepy psychological horror/thriller. A student who was haunted by night terrors when she was younger realizes she may not be away from them yet as her and those close to her start experiencing some freaky shit. If you were/are afraid of the dark and always wondered what might be lurking in the corner, under the bed or in the cupboard then They will either be one of your favourite, or least favourite films ever! Its strength lays in the suggestive style of direction and feel, making They quite suspenseful at times. Quite a cool twist at the end to. This was little heard of when it came out in 2002 but fans of the kind of horror that's more suspense and tension filled as opposed of full gore should check it out.
½
i liked the film and the ending was interestingly different
Brendan O'Connor
Super Reviewer
THEY are part of one of the worst movies I have seen in years. I'm not even sure who the fuck THEY are! Usually Wes Craven doesn't put his name on something unless it's decent. This isn't even close to decent. This is the slowest, most boring horror film I've ever seen! "Hey remember that shit that scared us 19 years ago, when we were kids, well all of a sudden it's back, so ummm call your childhood psychologist." Laura Regan is laughable, getting more upset by some crap on her finger than her friend blowing his head off in front of her, and it's just downhill from there. There is nothing scary about this film. I really have to question how shit like this even gets made.
Todd Smith
Super Reviewer
They Quotes
There are no approved quotes yet for this movie.