Brother's Keeper
(2002)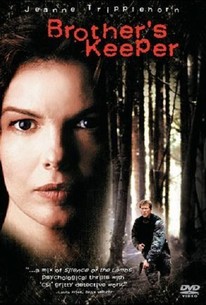 Movie Info
Filmed under the title Breeders, the made-for-cable thriller Brother's Keeper concentrated on, as the print ads so delicately described it, "A serial killer -- a fallen cop." Throughout her life, Lucinda Pond (Jeanne Tripplehorn) has looked after and protected her younger brother Ellis (Corin Nemec), whose aberrant mental state was the result of constant abuse at the hands of his father (Brian Jensen). As an adult, Lucinda worked as a criminal investigator, while Ellis pursued a criminal career. Despite this, Lucinda continued to shelter her brother, carefully covering up for his many crimes. Fired for bungling the investigation of alleged serial killer Victor Orbin, Lucinda opens up a boat and tackle store at a remote lakeside community. Local homicide detective Travis Adler (Leland Orser) invites Lucinda to participate in another murder investigation, this one apparently perpetrated by the same killer who indirectly cost Lucinda her badge. At the same time, Ellis escapes from jail and goes off on a homicidal spree of his own, eliminating those whom he feels did his sister wrong, as well as a few abusive parents along the way. Gradually, Lucinda begins to deduce a connection between Ellis' escape and her current investigation -- but will she continue to protect her kid brother despite his murderous rampage? Brother's Keeper made its USA Network bow on January 29, 2002; it was supposed to have premiered as My Brother's Keeper, but this title was changed at the last minute to avoid confusion with the like-vintage CBS TV-movie My Sister's Keeper.
Critic Reviews for Brother's Keeper
All Critics (7) | Top Critics (2) | Fresh (4) | Rotten (3) | DVD (1)
USA's Brother's Keeper cleverly plays the emotion and action cards, offering a mix of Silence of the Lambs psychological thrills with CSI gritty detective work.
... more interesting than it ought to be because the always wonderful Jeanne Tripplehorn is directed by the always fidgety John Badham.
Just shy of torture.
October 3, 2002 | Rating: 1.5/5
Audience Reviews
There are no featured reviews for Brother's Keeper at this time.
Brother's Keeper Quotes
There are no approved quotes yet for this movie.