Trapped
(2002)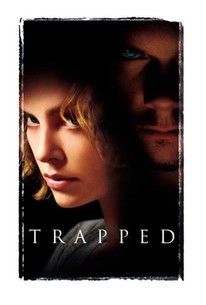 TOMATOMETER
AUDIENCE SCORE
Critic Consensus: With its plot about child kidnapping and endangerment, Trapped is an exploitative thriller, more queasy than suspenseful.
Movie Info
A mother is caught in a race against time to save her child in this taut suspense thriller. Dr. Will Jennings (Stuart Townsend) and his wife, Karen (Charlize Theron), find their world has been turned upside down when they're taken hostage and held in different cities while their young daughter is kidnapped by the same band of ruthless criminals. Joe Hickey (Kevin Bacon) has hatched a seemingly foolproof plan with his wife, Cheryl (Courtney Love), and cousin, Marvin (Pruitt Taylor Vince): while Dr. Jennings and Mrs. Jennings are under guard and unable to contact the police, Hickey will demand a massive ransom for the return of their daughter. If the payment is not arranged in 24 hours, the girl will be killed. Will and Karen realize it's imperative that they find their daughter as soon as possible, as she suffers from a medical condition that could claim her life if she doesn't receive her medication within a day, but as Karen plots a way to get away from Joe and rescue her little girl, she discovers money isn't the only reason Joe has chosen the Jenningses as his victims. Trapped was based on the novel 24 Hours by Greg Iles; 24 Hours was also announced as the film's title before it was changed to avoid being confused with the popular television series 24.
Critic Reviews for Trapped
Audience Reviews for Trapped
Well acted, well casted thriller about a kidnapping of a little girl that was carried out more creatively than most. The movie immediately draws you into it and you feel almost feel like you are in it. Bacon was fantastic as the bad guy coupled with a very good performance by Theron.
Cynthia S.
Super Reviewer
½
Have seen this film more then once. Its a good film but one only needs to see it once/ A very young Dakota Fanning in this one. Kevin Bacon plays the ultimate psycho kidnapper. And Courtney Love is a take charge Bit*ch who knows how to kick As*. Plenty of suspense but only needs to be watched one time, it just loses valve to more it is watched. A good one to add to the collection in case someone comes over and hasn't seen it. 3 1/2 stars.
Bruce Bruce
Super Reviewer
½
Decent thriller spoiled by a ridiculous ending. Would have been a lot better without the crashing cars and explosions. The whole cast (with the exception of a weak Stuart Townsend), are good in this - even Courtney Love, to my surprise. Dakota Fanning, excellent as always and Kevin Bacon pretty good in this one. Would have been a four star movie if they hadn't gone totally over the top at the end.
Nicki Marie
Super Reviewer
Trapped Quotes
There are no approved quotes yet for this movie.