Hansel & Gretel
(2002)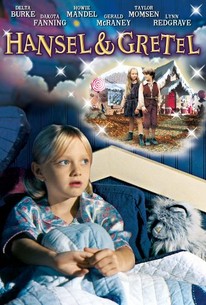 Movie Info
One of The Brothers Grimm's best loved fairy tales gets an overhaul using the latest in visual effects technology in this comedy-drama for the whole family. A little girl (Dakota Fanning) has a hard time getting to sleep, so her father (Daniel Roebuck) dusts off a book of children's stories and reads her one of his favorites. Hansel (Jacob Smith) and Gretel (Taylor Momsen) are two children who are being raised by their loving father (Gerald McRaney) and his shrewish second wife (Delta Burke) after the unfortunate death of their mother. When Father is forced to leave home to find work in the city, Stepmother decides this would be the perfect time to get rid of the children, and she manages to "lose" Hansel and Gretel in an enchanted forest. While the children make a valuable and magical friend in The Sandman (Howie Mandel), they also encounter a mysterious woman with a gingerbread house (Lynn Redgrave), who takes them in; however, it isn't long before they learn she's actually a witch, and has made some unorthodox dinner plans involving her young guests. Hansel & Gretel also features the voice talents of Sinbad, Bobcat Goldthwaite, and Tom Arnold as, respectively, a talking raven, a troll, and the Bogeyman.
Critic Reviews for Hansel & Gretel
Audience Reviews for Hansel & Gretel
Just a terrible movie, if I could give it zero stars I would. I'm on a crusade against dumb kids' movie and this movie reinforces that. It's not funny, it completely butchers the original story, it looks like crap (and smells like it too). If this movie was so bad that it's good, but it rdoesn't even manage to reach that. Just an outright disaster of a movie. It's, by far, one of the worst kids' movie I've ever seen, even worse than the recent Gulliver's travels. Epic fail of a movie this is. One last thing, I thought my 900th review on this website would be for a much better movie but those plans are all out the window now, here's to the 1000th being better.
Jesse Ortega
Super Reviewer
It looks great, but it's a flawed bore. Not enough fantasy sequences are created, reducing its magic. It seems like a school play with people in costumed roles.
Lafe Fredbjornson
Super Reviewer
Hansel & Gretel Quotes
There are no approved quotes yet for this movie.