All or Nothing
(2002)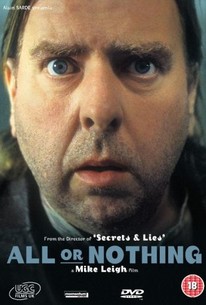 TOMATOMETER
AUDIENCE SCORE
Critic Consensus: All or Nothing's depiction of the working-class can be depressingly bleak, but the performances are wonderfully true to life.
Movie Info
A drama set in present-day London in which a supermarket checkout girl named Penny begins to fall out of love with her taxi-driver boyfriend, Phil. Their daughter Rachel cleans in a home for elderly people, and their son Rory is unemployed and aggressive. The joy has gone out of Phil's and Penny's life, but when an unexpected tragedy occurs, they are brought together to rediscover their love.
Critic Reviews for All or Nothing
Audience Reviews for All or Nothing
I'm not really sure how he does it, but I always get a little uncomfortable when I watch a Mike Leigh movie. Life just never gives his characters a break.
"All or Nothing" is more a collection of good scenes than a good film. Laboriously workshopped in director Mike Leigh's usual fashion, the story centers on a financially struggling family in a rundown apartment complex. The father (Timothy Spall, his doughy face permanently froze in a blank torpor) is a slack cabbie. The mother (Lesley Manville, steadily whimpering) is a grocery checker. Their two young-adult children are both significantly overweight -- he (James Corden) is coarse and unemployed, while she (Alison Garland) cleans up at an old-age home. The family's neighbors also wander in and out of scenes, most notably a feisty tease named Samantha (Sally Hawkins, who later played a much different role in Leigh's "Happy-Go-Lucky") and an empathetic mother (Ruth Sheen). Sheen -- sort of an Edith Bunker type -- steals the movie with her fragile warmth and weakly reassuring smile. Wish her role had been larger. Eventually, a health crisis forces the family to re-examine its emotional bonds. If you crave more plot than this, you're pursuing the wrong director. "All or Nothing" is relentlessly downbeat and depressing, and doesn't manage to supply enough insights to make its bleak ride worthwhile. Furthermore, the script's treatment of Corden borders on cruelty. The film's acting is certainly strong, but Leigh has done better.
Eric Broome
Super Reviewer
½
All or nothing involved lots of characters which were great among each other in their own ways. The movie used the first hour to build up the link between each of them and it serves as a nice creation for the story to go further. The casting of the movie was excellent. The actors and actresses are just like the real people around us. Not bad,
Daisy Maduro
Super Reviewer
All or Nothing Quotes
There are no approved quotes yet for this movie.