Adaptation
(2002)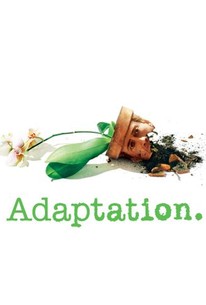 Movie Info
Despite the success of his first produced script, "Being John Malkovich," for which he received an Academy Award nomination for best original screenplay, Charlie Kaufman is plagued by insecurities, both in his career and his personal life. When he is hired to adapt "The Orchid Thief," a nonfiction book about a fanatical orchid breeder, John Laroche, he is completely stumped. Though, on the surface, the book is about Laroche's flower poaching adventures in the Florida Everglades, on another level it's also about the desire in all of us to experience passion. This longing plagues the book's author, Susan Orlean and, Charlie realizes, himself as well. Charlie's twin brother, Donald Kaufman, only makes things worse when he moves in with Charlie and announces he's going to be a screenwriter too. As Charlie battles his severe case of writer's block, Donald cheerily types away on a script about a serial killer with multiple-personality disorder. Donald's script immediately sells, making him the "hot" new writer in town. Then, one day, Charlie has a last ditch inspiration. He'll use his own dilemma as a framework for the script about Laroche and Orlean. But as the words start to flow, and the story takes shape, Charlie inadvertently sets in motion a chain of events impacting on the lives of all the characters.
Critic Reviews for Adaptation
Audience Reviews for Adaptation
One of those dolls that open up and voila, there's another doll inside, and so on, and so on. Kaufman lacks a finish but boy, what a show until then! Exemplary performances in this curiosity that explores the idea of making yourself happy, dammit.
Kevin M. Williams
Super Reviewer
½
A remarkably intelligent film that blends reality and fiction to make a humorous self-reflection about an author and his creative process, and it boasts some amazing performances (Nicholas Cage is excellent) and one of the most fascinating scripts I can remember.
Carlos Magalhães
Super Reviewer
A triumphantly meta film that takes every opportunity to take a filmic cliche and completely turn it on its head. This is writer Kaufman's movie as much as it is Jonze's, and the duo manage to provoke laughs, pathos, and thought in this surreal dive into the writing psyche, complete with a wonderful dual performance from Nicolas Cage.
Kase Vollebregt
Super Reviewer
Adaptation Quotes
| | |
| --- | --- |
| Herself: | I suppose I do have one unembarrassed passion. I want to know what it feels like to care about something passionately |
| Herself: | I suppose I do have one unembarrassed passion. I want to know what it feels like to care about something passionately. |
| | |
| --- | --- |
| Robert McKee: | And God help you if you use voice-over in your work, my friends. God help you! That's flaccid, sloppy writing. Any idiot can write voice-over narration to explain the thoughts of the character. |
| | |
| --- | --- |
| Donald Kaufman: | You are what you love, not what loves you. That's what I decided a long time ago. |
| | |
| --- | --- |
| Robert McKee: | Nothing happens in the world? Are you out of your fucking mind? People are murdered every day. There's genocide, war, corruption. Every fucking day, somewhere in the world, somebody sacrifices his life to save someone else. Every fucking day, someone, somewhere takes a conscious decision to destroy someone else. People find love, people lose it. For Christ's sake, a child watches her mother beaten to death on the steps of a church. Someone goes hungry. Somebody else betrays his best friend for a woman. If you can't find that stuff in life, then you, my friend, don't know crap about life! And why the FUCK are you wasting my two precious hours with your movie? I don't have any use for it! I don't have any bloody use for it! |