The Gathering Storm
(2002)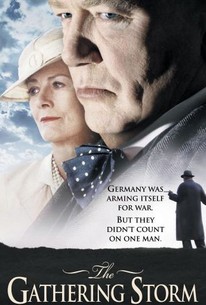 The Gathering Storm Photos
Movie Info
Today, Winston Churchill is regarded as one of the great leaders of his time, and a hero for helping to guide Great Britain through the crises of World War II. But in the 1930s, Churchill's place in history hardly seemed assured; his early warnings against the growing threat of the Third Reich were taken seriously by few of his contemporaries, and he suffered through a variety of personal, professional, and economic setbacks before German attacks on England gave credence to his theories about Hitler's desire to overtake Europe, and gave Churchill the opportunity to rise to the greatness that was his destiny. The Gathering Storm is a made-for-television biographical drama based on Churchill's memoirs about his life leading up to World War II. Albert Finney stars as Winston Churchill, Vanessa Redgrave plays his wife, Clementine, and Derek Jacobi appears as Stanley Baldwin. Jim Broadbent and Ronnie Barker co-star. Produced for the BBC, The Gathering Storm received its American premier on the HBO premium cable network in the spring of 2002.
Critic Reviews for The Gathering Storm
Audience Reviews for The Gathering Storm
½
A thumbnail sketch really of the days in Britain during the rise of Adolph Hitler and the difficult rise of the man who was to prove to be his fiercest foe: Winston Churchill. The principals enliven this light sketch, and mostly Finney as the grand old codger himself. Good ensemble work by the entire cast though.
Kevin M. Williams
Super Reviewer
The Gathering Storm tells the story of Winston Churchill's rise in the political arena in the 30's. In this film you see how Churchill was really the first to understand that Germany was on a path to war and he tried to warn the British government about the threat of Nazi Germany. This is a stunning work that was followed by a sequel, Into the Storm. Both films had two different actors playing Churchill Albert Finney plays the role of Winston Churchill in this one, and he delivers something unique in the portrayal of this iconic political figure. This is a well crafted biopic, but you do see it could have been a little better due to the fact that it covers important moments in Churchill's career. I feel the filmmakers could have emphasized a little more on Churchill's rise, and added more depth to its plot in some areas. However the film is very good and the slight imperfections are redeemed by Albert Finney's impressive performance. This is a must see for history buffs or anyone interested in Winston Churchill. Despite its imperfections, there are enough good things about this film to make it entertaining. As for its sequel, Into the Storm, it is a slightly better film because it tells Churchill's finest moments during the Second World War If you watch this film, check out its sequel as both films deliver an interesting portrait of the most interesting, and dashing political figure that is Winston Churchill. Brilliant picture that is a terrific biopic and really is a must see for anyone looking for a good biopic to watch.
½
Televison Film BBC Two, July 2002
The Gathering Storm Quotes
There are no approved quotes yet for this movie.