Spider
(2002)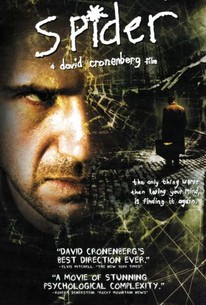 Movie Info
Spider is set in the East End London in the 1960s and '80's. A deeply disturbed boy, Spider, 'sees' his father brutally murder his mother and replace her with a prostitute, Yvonne. Convinced they plan to murder him next, Spider hatches an insane plan, which he carries through to tragic effect. Years later, Spider is released into a halfway house, where he receives little care or attention from the landlady Mrs. Wilkinson. Unsupervised, Spider stops taking his medication and starts revisiting his childhood haunts. His attempts to sustain his delusional account of his past begin to unravel and Spider spirals into fresh madness.
Critic Reviews for Spider
Audience Reviews for Spider
I can Sum This one up in 3 Letters WTF, A complete wasted of my time, I would have rather stick needles in my eyes. 1/2 star 9-10-13
Bruce Bruce
Super Reviewer
Im in the middle of watcing it right now, and while it is interesting it is slow and RALPH FIENNES! :( I love your vioce and you murmer throughout the whole movie, I mean I understand its his charcter but it is unfortunate. Still his performance as always is great. I curious as to how this movie will end.
Morgan Salem
Super Reviewer
Spider is an incredibly subdued and well-paced drama of psychological horror and detached self-examination. The interesting thing about Spider is the uncertainty of the entire picture. From the opening, it's clear that director David Cronenberg knows exactly the kind of movie he wants to make, and does so effectively. For all Cronenberg's steadiness, the audience has much less an idea what's going on than Spider Cleg does. Is Cleg insane at all? Either way, Spider is an expressionist film and doesn't try to explain by labeling this or that as "paranoid schizophrenia" which detaches the viewer from the main character, but instead may have you relate to him and question how accurately you remember your childhood.
El Hombre Invisible
Super Reviewer