Down (The Shaft)
(2001)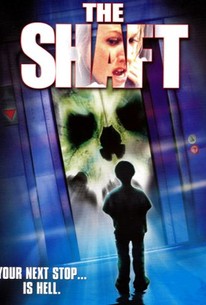 Movie Info
At the Millennium Building in NYC, the elevators have a problem... they just can't stop killing people! Pregnant women, skater dudes -- they're all on the menu for these possessed motorized beasts. As elevator repairman Mark Newman (James Marshal) delves deeper into the mystery, everyone from his boss to the building manager stand in his way. His only help comes from Jennifer Naomi Watts, a nosy reporter that smells a cover-up when she sees it. As the "accidents" pile up, the President and FBI get involved as the heroic couple come face to face with technology gone horribly, horribly wrong. Down is a direct remake (shot for shot at times) of director Dick Maas' early 80's cult flick The Lift.
Critic Reviews for Down (The Shaft)
All Critics (5) | Fresh (1) | Rotten (4) | DVD (2)
Only thing worse than a bad horror film, is a horror film that's not scary.
Great little B-movie horror with Naomi Watts stealing the show.
March 11, 2007 | Rating: 3/5
If you paid to see this flick, I think it's fair to say you got the shaft.
Audience Reviews for Down (The Shaft)
If you want to read the review I wrote for this, go to letterboxd.com/HankIsDead514. I can no longer post long reviews on here and I'm not writing two separate reviews for the same movie.
Jesse Ortega
Super Reviewer
A very good horror flick with an interesting plot.
Jacob Palacio
Super Reviewer
Don't let the cast of (fiarly well known) character actors and (future) big name stars, fool you. This film is a complete insult from beginning to end. Everything from the ridiculous premis, bad writing, sub-par acting to the use of every cheesy character profile and trite plot "twist" ever seen on film..is a little insulting. Naomi Watts and Ron Perlman should thank their lucky stars that this didn't end up being the "career breaker" that it should have been. I almost want people to see it so they will know JUST how bad it really is! I guess it's human nature? Kind of like when you taste something bad and say to your friend "OH!....taste this...it's horrible!
Down (The Shaft) Quotes
There are no approved quotes yet for this movie.