Devdas
(2002)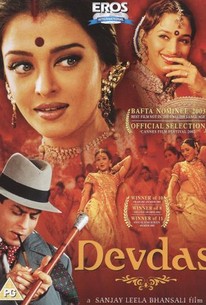 Movie Info
Set in the early 1900s, this film follows a young man named Devdas (Shah Rukh Khan) on his way home to India after having spent the past ten years in London. As the news reaches Devdas and his ex-love Paro's (Aishwarya Rai) respective households, the family matriarchs remember when the young couple were still children. When Devdas' mother found out the two wanted to get married, she refused to give her consent, and in doing so, set off a sequence of events which would lead Devdas into alcoholism. Though Paro has agreed to an arranged marriage with a wealthy landowner, she still loves Devdas, and is determined to lure him away from his constant drinking. Devdas is based on a classic Indian novel by Sarat Chandra Chattopadhye, and is the third feature directed by Sanjay Leela Bhansali.
Critic Reviews for Devdas
Audience Reviews for Devdas
"Where will I find again my lost innocence... my lost dreams... my lost childhood? Where has the shade of trees gone, where I made myself a home?" -Devdas This is like the 3rd or 4th Bollywood movie I've seen. I gotta say it was absolutely spectacular. I'm a sucker for romances and this one delivers in all aspects. I couldn't get enough of it after watching it. I was going to go to sleep but I managed to stay up until 6am and watched it all the way through (3 hours+!!).
½
Spectacular colors, sets, costumes, music... must have cost a fortune to produce. The lovely Aishwarya Rai is absolutely stunningly gorgeous. This is quite possibly one of the most depressing movies I've ever seen... I wanted to give it less stars because it is so tragic and hopeless but you can't deny its power, its message, and its lasting effect.
Dannielle Albert
Super Reviewer
½
Really long, and I didn't feel anything for the characters. It is a beautiful film to look at, the colors are vivid.
Marion Ravenwood
Super Reviewer
Devdas Quotes
There are no approved quotes yet for this movie.