Lift
(2001)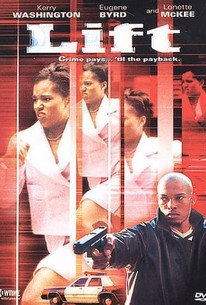 Movie Info
A thief plans one last heist -- though hardly for the typical reasons -- in this offbeat drama. Neicy (Kerry Washington) is a stylish, well-dressed young woman who maintains an air of intelligent arrogance in her part-time job as a window dresser at an upscale Boston department store. Neicy has a secret to looking good on a window dresser's salary -- she's an expert shoplifter, who has learned how to steal the best outfits for herself and her friends, and occasionally makes a few bucks lifting items she can sell to others (though she charges much less than the market will bear). Neicy's boyfriend Angelo (Eugene Byrd) thinks she ought to get out of shoplifting before she's arrested, but since he makes his living selling marijuana, Neicy doesn't have much respect for his opinions in this area. However, when Neicy discovers she's pregnant, she begins to think that a less risky occupation might be in order after all; her boss at the department store thinks enough of her work to suggest a career in design, and is even willing to give her a better paying job in New York. But Neicy has never gotten much affection from her mother (Lonette McKee) and wants to do something to prove her love; when she sees her mother admiring a beautiful and very expensive necklace, Niecy decides to steal it as a gift for her. However, the jewelry store in question has much better security than the shops Neicy is used to, and she's forced to bring an outside accomplice into the picture -- Christian (Todd Williams), a jewel thief whose demands involve more than just money. The second feature from the writing and directing team of DeMane Davis and Khari Streeter, Lift premiered at the 2001 Sundance Film Festival, where it was nominated for the Grand Jury Prize.
Audience Reviews for Lift
Decent crime-drama/heist movie...would have been better with a bigger budget.
Chosen 718
Super Reviewer
Lift Quotes
There are no approved quotes yet for this movie.