Carrie
(2002)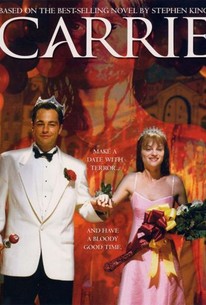 TOMATOMETER
AUDIENCE SCORE
Critic Consensus: This made-for-TV adaptation of Stephen King's classic fails to impress or bring anything new to the table, - or to the prom - paling even more in comparison to the 1970's memorable version.
Movie Info
This made-for-TV remake of the classic movie chiller Carrie is slightly more faithful to the original Stephen King novel--and slightly less profane and violent. Following in the bloody footsteps of Sissy Spacek, Angela Bettis stars as woebegone high school girl Carrie White, whose shy and awkward demeanor obscures the fact that she is "gifted" with awesome telekinetic powers. As part of a cruel and vicious student prank, Carrie's better-looking and more socially savvy classmates arrange for the hapless heroine to be elected prom queen--and one does not have to have seen the original film to know the terror that is unleashed once Carrie is crowned (in more ways than one). The climax is infinitely more "high tech" than in the 1976 film, but whether it is equally as frightening is a matter of taste; additionally, the 2002 version boasts a radically different ending, one that could very well accommodate a sequel or two...or three... Patricia Clarkson reprises the old Piper Laurie role as Carrie's abusive religious-fanatic mother. Carrie first aired November 4, 2002, on NBC.
News & Interviews for Carrie
Critic Reviews for Carrie
Audience Reviews for Carrie
½
I really don't know why they remade this at all. They didn't improve on the original at all. Patricia Clarkson is a less scary villain, the plot makes less sense, all the schoolgirls are flatter and Angela Bettis is horrible in this. I did like the way Sue voluntarily forfeited her prom ticket and how Tommy genuinely treated Carrie nicely, and Rena Sofer created a better and more believable Miss Desjardins. But the addition of the flashback storytelling and the extraneous headgames that Sue seems to be trying to play with the detective seemed out of place. This is a movie with no imagination.
Emily Armstrong
Super Reviewer
The remake was really boring.
½
I think everyone knows the story of Carrie. The strange innocent misfit who's teased mercilessly and maliciously by a few of her school peers. and develops her telekinetic powers to protect herself after a particularly cruel and humiliating prank is pulled on her. Well, I think I enjoyed this because it put a different spin on the original story. That is, the story is told after the fact in a series of interviews conducted by the police. The movie has a good cast and the script is good. The special effects, while used to good effect, aren't particularly 'special', but the camera work, particularly in the ballroom scene when everyone is panicking, is deplorable. I've taken better home movies. Still, if you can ignore that.... Overall I really enjoyed this telemovie and would recommend it to anyone who wants a bit of a scare and to be entertained, and not I'll probably be burned at the stake for this too, but I preferred Angela Bettis charactisation of Carrie to Sissy Spaceks in the original.
Cassandra Maples
Super Reviewer
Carrie Quotes
| | |
| --- | --- |
| Mrs. Margaret White: | (walks outside to see Little Carrie) Carrie, what am I supposed to tell you. |
| Mrs. Margaret White: | [walks outside to see Little Carrie] Carrie, what am I supposed to tell you. |
| Mrs. Margaret White: | (Little Carrie walks up to her as she talks to her and grabs her arm) Get in the house.... Right.... now..... |
| Mrs. Margaret White: | [Little Carrie walks up to her as she talks to her and grabs her arm] Get in the house. Right... now. |