Suicide Club
(2002)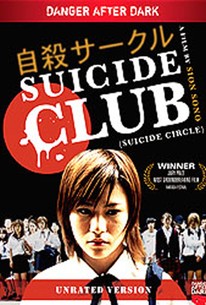 Movie Info
This dark horror film begins with the grisly spectacle of 54 Japanese schoolgirls jumping in unison into the path of an oncoming train. This is only the first in a wave of mass suicides that sweeps across Japan, baffling the police and panicking the populace. The two police officers assigned to the case have to piece together such mystifying clues as a website seems to be predicting each wave of deaths, a coughing child who periodically calls them with enigmatic tips, and a coiled rope stitched out of human flesh. All of it may or may not have to do with a prepubescent all-girl pop group whose latest hit single seems to have hypnotized the nation.
Critic Reviews for Suicide Club
Audience Reviews for Suicide Club
What's great about Japanese horror, is that no matter what the films they will scare you blind. Now with Suicide Club, they take a whole new concept of what we're afraid of the most and they create something that horrifyingly effective. A very original film compared to all the new reimagining's of classic Horror films, Suicide Club is an original scare fest, and it genuinely scares you and there's plenty of great tense moments to be had within the film. A must watch. Suicide Club is a harrowing nightmare of a film, a truly terrific concept for its plot with a decent cast make this a terrific little known gem in Asian Horror. If you love these types of horror flicks, then give this one a shot, Suicide Club is an intense film from start to finish, one that will keep you interested from beginning to end. This is an entertaining film and one that should appeal to fans of this genre of horror. A fine low Budget film, Suicide Club is a film that has an interesting idea for a film, and the directors clearly have an idea what makes an effective horror film by conveying a new type of fear on their audience. This film is disturbing and chilling, and this is one film that will surely appeal to genre fans. Director Sion Sono is a good director and he has crafted a memorable that will be hard to forget long after you've seen it. A film definitely worth your time, one that has a very chilling concept and is hard to forget.
Cult Japanese shocker about a new Suicide trend that has started to sweep across Japan affecting it's youth with the police trying to unravel the causes behind it. After a few years of waiting for a UK release I was a little disappointed having finally got to see it. The main grievance is that there really are no answers and nothing is explained in a conventional way, so it didn't make for very satisfying viewing as at the end I was very confused. A good enough film none-the-less, it has it's memorable moments, mostly from the scenes of suicide which are often bloody (some CGI) and with a very black sense of humour. And the social critique on people who blindly follow the latest trends was also a fun touch. Another viewing of this in the future may go down better with me, still a worthwhile look though.
½
The mass suicide at the very beginning of the movie is sure to achieve attention of most of the viewers. The movie becomes more thrilling and chilling as it progresses. However, after a point, it turns into a sort of comedy. Also, I didn't like the message/explanation provided therein.
familiar stranger
Super Reviewer
Suicide Club Quotes
There are no approved quotes yet for this movie.