Good Boy!
(2003)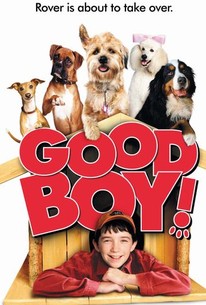 Movie Info
For his debut feature, John Hoffman wrote and directed this effects-heavy family film based on the story Dogs from Outer Space by Zeke Richardson. Produced by Jim Henson Productions, Good Boy! presents the idea that dogs are actually an intelligent alien species sent to earth thousands of years ago to spy on humans in preparation for a full-scale invasion and takeover. But when the spies stop reporting back to the home planet, Canid 3942 (voiced by Matthew Broderick) is sent to earth to investigate. Once there, Canid 3942 encounters Owen Baker (Liam Aiken), a young boy who runs a dog-walking service. Owen befriends the space-dog, renaming him Hubble. When it becomes obvious that the dogs of earth have forgotten their mission, Hubble enlists the help of Owen to get them all into shape before The Great Dane arrives to inspect. If they fail, all of earth's dogs will be recalled to their home planet of Sirius. With Kevin Nealon and Molly Shannon as Owen's parents, Good Boy! also features the voice talents of Brittany Murphy, Carl Reiner, Megan Mullally, and Donald Faison.
Critic Reviews for Good Boy!
Audience Reviews for Good Boy!
½
Could be so much better but it's not, retarded storyline doesn't appeal to anyone
Sylvester Kuo
Super Reviewer
½
Poor Matthew Broderick. From Ferris Bueller to Inspector Gadget...to a talking space alien dog?!? All I can do is shake my head,,,
Derek Daniels
Super Reviewer
I enjoy kids/family films. I enjoy animal films. This film is both of these things, but...I can't say I really enjoyed this one. The acting was poor, the plot was mediocre, the jokes were hackneyed and the message was garbled. Young children may enjoy the sight of talking dogs and their interaction with human beings and one another, but that is all this movie is good for really...a little visual stimulation (and it is hard pressed even there). They employed some great to fair talent to do the voiceovers (The great Carl Reiner, Matthew Broderick all the way to Brittany Murphy), but their performances were kind of boring. The child actor who plays the lead...don't look for him in the future either. Most kids will find this movie quite boring and even most adults will find it bland at best. Do yourself a favor and rent "Spirited Away" and pass on this film.
Good Boy! Quotes
| | |
| --- | --- |
| Barbara Ann: | Up, up, and away! |
| | |
| --- | --- |
| Wilson the Dog: | I believe I can fly! |
| | |
| --- | --- |
| Nelly: | 3, 2, 1... BLAST OFF! |
| | |
| --- | --- |
| Wilson the Dog: | Can I have a cookie? |