House of the Dead
(2003)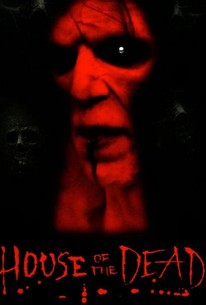 TOMATOMETER
AUDIENCE SCORE
Critic Consensus: A grungy, disjointed, mostly brainless mess of a film, House of the Dead is nonetheless loaded with unintentional laughs.
Movie Info
A group of unsuspecting teens stumble upon the living dead in an old house. When one of them dies during a rave at the house, the others band together to get revenge.
News & Interviews for House of the Dead
Critic Reviews for House of the Dead
Audience Reviews for House of the Dead
From one of the most untalented directors of our time, comes one of the worst horror films I have ever seen. "House of the Dead" takes everything you know about zombie flicks and completely ruins it. Having absolutely terrible actors and a script as bad as they come, this film fails to impress even in it's action scenes. The most commendable thing in this film are the many 360* shots throughout the final scene, but when they start to go on endlessly it get's to be tedious, even though the movie is already tedious enough. It is some of the worst filmmaking I have ever seen in a film. For a 12 million dollar budget, this crew should be ashamed of themselves. It is not scary and it is unintentionally funny the whole way through. "House of the Dead" is utter garbage.
Uwe Boll's zombie movie is one of the worst films in the history of cinema. Uwe Boll has gotten himself the reputation of being one of the worst Hollywood directors in history. Based on a popular video game, House of the Dead is a poorly made film that is beyond awful. House of the Dead will disappoint harden zombie fans because this is poorly conceived trash. This film has one thing going for it, it's unintentionally humorous. This film is so bad, that it's hilarious. Uwe Boll actually placed video games scenes in his movie to give it a "video game" type feel. Instead, it's hilarious. The use of cinematography is criminal in this film. Now, I'm an epileptic, and whenever the camera started spinning, I had to cover my eyes because it felt like I was going to have a seizure. If you're looking for a good, entertaining zombie film, you won't find it here because Uwe Boll can't write an effective plot to his films (under the very rare occasion, he's managed to direct two or three watchable films). However, House of the Dead is not watchable, this is a film with no plot, and bad acting, bad special effects, and it feel like a sci fi channel made for TV movie. House of the Dead is yet another prime example as to why video game to screen adaptations do not work. Occasionally they do, but not in the case of Uwe Boll's House of the Dead. If you're looking for a good zombie action film, watch Resident Evil instead, and skip this film. You'll be glad you did.
Stop spinning the fucking camera Uwe!
Tsubaki Sanjuro
Super Reviewer
House of the Dead Quotes
There are no approved quotes yet for this movie.