The Big Empty
(2003)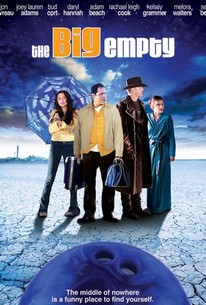 Movie Info
A guy looking for easy money gets a lot more than he bargained for in this noir-flavored independent comedy. John Person (Jon Favreau) is a struggling actor living in Los Angeles who is starting to buckle under the pressure of his own failures. With no acting jobs coming in and a massive credit card debt to pay off, John works part-time as a courier but needs a big payday if he's ever going to get back on his feet. Out of the blue, a strange man in the neighborhood makes John an offer that seems too good to be true -- in exchange for delivering a suitcase to a man in Baker, CA (midway between L.A. and Las Vegas), John will receive $27,000 in cash. John's first tip off that something odd is going on comes when, along with the suitcase, he's given a loaded gun and instructions to defend the package with his life if necessary, but he's just desperate enough to go along. However, things become more complicated when John misses his connection in Baker; he's suddenly followed by a number of threatening eccentrics, is informed by an FBI agent that his benefactor in L.A. has become the victim of a grisly murder, and incurs the wrath of Cowboy (Sean Bean), the ominous trucker who was supposed to pick up the suitcase. The Big Empty features a stellar supporting cast, including Kelsey Grammer, Melora Walters, Daryl Hannah, Joey Lauren Adams, and Rachael Leigh Cook.
Critic Reviews for The Big Empty
Audience Reviews for The Big Empty
½
odd and surreal, one of the better post swingers film for its lead. full of oddball characters and strange plot developments.
Brendan O'Connor
Super Reviewer
A quirky alien abduction comedy thriller (when was the last time you saw one of those?), this film was full of "woowoo" moments. Great cast and beautiful location filming. Not great film, but a good story. Jon Favreau plays a down-on-his-luck everyman who gets caught up in intrigue in order to clear his debts and start over. In the process, he proves himself to be a man of good character who winds up with the girl. And what is wrong with that? Entertainment, pure and simple.
Mark Abell
Super Reviewer
½
A suitcase and a bowling ball bag along with a cast of off kilter characters including an aspring actor, a lolita and her jealous boyfriend, an FBI agent, a hooker, a cowboy, (what's a cowboy without) an indian, and others.. All meshed together in a small desert town out in "The Big Empty". I'm still not sure if I've got a complete handle on the movie and I've seen it quite a few times. That aside, I'm all about the quirky films that don't sacrifice plot or character development just to be different. This movie is different, but not just to be different.. amazingly it all fits within the context of the film. If you watch the deleted scenes and alternate scenes on the DVD it can clear a bit up, personally I like the extra mystery so I can fill in my own blanks. It can leave you in just enough fog to let your imagination run where it likes. Also, I'd have to say Cowboy (Sean Bean) is probably my favorite character I've come across in any movie.
Nick Grimm
Super Reviewer
The Big Empty Quotes
| | |
| --- | --- |
| Cowboy: | There's a whole other world out there...my ticket is open-ended. |
| Cowboy: | There's a whole other world out there. My ticket is open-ended. |
| | |
| --- | --- |
| Dan: | They're harvesting eggs and sprerm to start a master race. |
| | |
| --- | --- |
| Ruthie: | The bar is my home...Stella is my Mom. |