Big Fish
(2003)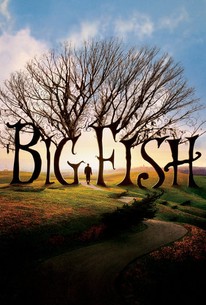 Movie Info
The story of a braggart and exaggerator, Edward Bloom, and his son, William, who--after a long estrangement--returns home only to learn his father is dying of cancer. Desperate to know the complicated man before it's too late, William sets out, trying to unravel fact from fiction.
Critic Reviews for Big Fish
Audience Reviews for Big Fish
Beautiful visually and emotionally. A wonderful examination of relationships and mortality. Albert Finney proves again what a fine actor he is.
Christian C
Super Reviewer
½
Will Bloom: A man tells so many stories, that he becomes the stories. They live on after him, and in that way he becomes immortal. "An Adventure As Big As Life Itself." Big Fish is a very interesting movie. The plot jumps around and while we are being told the stories, we, like the child of the man in the stories, don't know what's true and what's false. Now, Big Fish isn't one of my favorites from Tim Burton, but it does show some expansion in his filmmaking. This movie is more real life than anything he's ever done. Sure there's some fantastical elements that remind us of other Burton films, but this one is so much more different than anything he's ever done. Big Fish is the life story of a dying old man, Ed Bloom. He is a storyteller, that tells fantastical stories about his life, which seem to have little to do with reality. His son, Will, also is under the belief that the stories are made up. Either way we get to hear and see the stories the way Ed would have told them. There's a lot of bizarreness going on here as you would suspect with any Burton film. There's a giant, a witch, a humongous fish, and a love story that stops time. Overall the plot elements add up to a pretty satisfactory story even if something seems to be missing from he overall outcome. Big Fish is a film I more appreciate then enjoy. I never have fallen in love with it, but it always entertains and intrigues me. It's well worth a watch as it has solid direction from Burton and it boasts a strong and well-know cast.
Melvin White
Super Reviewer
Fantasy movie by Tim Burton. A man is dying of cancer. His son is desperate to know his father. He tells him how he met his mother. Great cast and story.
Candy Rose
Super Reviewer
Big Fish Quotes
| | |
| --- | --- |
| William Bloom: | You know about icebergs, Dad? |
| Edward Bloom (senior): | Do I? I saw an iceberg once. They were haulin' down it down to Texas for drinkin' water. They didn't count on there bein' a elephant frozen inside. The wooly kind. A mammoth. |
| William Bloom: | Dad! |
| Edward Bloom (senior): | What? |
| William Bloom: | I'm tryin' to make a metaphor here. |
| Edward Bloom (senior): | Well, you shouldn't have started with a question, because most people wanna answer questions. You should've started with "the thing about iceberg is" |
| | |
| --- | --- |
| Ed Bloom (Young): | (first lines) There are some fish that cannot be caught. It's not that they are faster or stronger than the other fish, they're just touched by somethin' extra. |
| Ed Bloom (Young): | There are some fish that cannot be caught. It's not that they are faster or stronger than the other fish, they're just touched by somethin' extra. |
| | |
| --- | --- |
| Dr. Bennett (Senior): | Not very excitin', is it? And I suppose if I had to choose between the true version and an elaborate one involvin' a fish and a wedding ring, I might choose the fancy version. But that's just me. |
| William Bloom: | I kinda like your version. |