Highwaymen
(2004)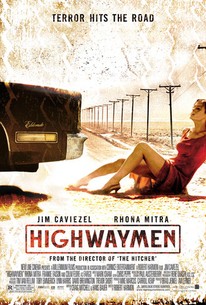 Movie Info
Since the hit-and-run murder of his wife five years ago, Rennie Cray has crisscrossed America in his souped-up, stripped-down '68 Plymouth Barracuda, pursuing her killer. The man he seeks in a high-speed, high-stakes game of cat-and-mouse is James Fargo, a merciless, wheelchair-bound psychopath. Through a series of mechanical innovations, Fargo has turned his rampaging '72 Cadillac Eldorado into a monstrous extension of his own twisted body and mind. Now, their deadly battle of wits and wills is about to move into overdrive. And caught in their headlights is a tormented beauty who unwittingly holds the key to their ultimate showdown.
Critic Reviews for Highwaymen
Audience Reviews for Highwaymen
½
Road movies are quite interesting in the horror medium. The notion of a psycho that creeps around the open road stalking his victims is quite frightening due to the fact it adds another dimension of exhilaration due to the fact at time many of the demented maniacs uses cars as their weapons. Highwaymen is an interesting horror thriller set on the open road where a maniac kills women with his 1972 El Dorado. For a low budget flick, this is quite good and it will surely interest genre fans and it definitely is a well crafted picture that is sure to creep you out. Of course the film has its flaws, but the cast is quite god and each bring something to the screen that makes this a tense and terrifying film. This is an overlooked gem that deserve to find a wider audience to the fact that it has an effective concept that works. The film is short, but is never dull, and it is a well crafted picture that will surely appeal to genre fans looking for low budget gems. The film works well enough for its short run time and the villain played by Colm Feore is chilling and quite memorable. The only downside to this film is that it is a bit too short, and it could have been a bit longer due to its interesting concept. Luckily director Robert Harmon manages to craft something terrifying, thrilling and quite compelling and that's enough to overcome the film's shortcomings. With a great cast, a good story and effective directing, Highwaymen is a worthwhile horror thriller that is worth seeing if you love road films. As it is, it a fine addition to the road rage genre and it does boast some entertaining sequences that will certainly appeal to horror fans. Highwaymen is imperfect, but is underrated and deserves to be at least viewed with an open mind.
½
A pretty decent Thriller which has it?s tense moments. A bit of a ?Death Proof? meets ?Crash? meets ?Death Wish? kind of film, with one man out for revenge, a half man, half mechanical killer and a victim playing bait. The film did lack in explanation for motive I felt, but did offer a unique kind of killer. Another to add to my Serial Killer list
Lady D'arbanville
Super Reviewer
When murder is no accident, revenge is no crime.
Highwaymen Quotes
There are no approved quotes yet for this movie.