Wuthering Heights
(2003)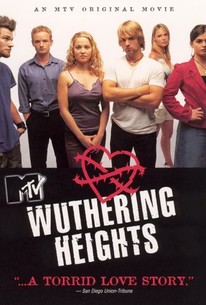 AUDIENCE SCORE
Critic Consensus: No consensus yet.
Movie Info
Leave it to MTV to cook up a musical version of Emily Brontë's brooding 19th century British novel Wuthering Heights, updated to the 21st century and relocated to Southern California. This time around, the kindly Mr. Earnshaw (John Doe), father of spoiled-rotten Cate (not Cathy) and Hendrix (not Hindley) Earnshaw, lives in a reconverted lighthouse which he has christened Wuthering Heights. One day, Earnshaw brings home an abandoned child named Heath (not Heathcliff), whom he semi-adopts, much to the dismay of his natural son, Hendrix, but to the delight of the willful Cate. Upon reaching adulthood, Heath (Mike Vogel) declares his love for Cate (Erika Christensen), but they are kept separated by the envious Hendrix (Johnny Whitworth) and by the covetous Cate's intention to opt for wealth and security by wedding preppy snob Edward (not Edgar) Linton (Christopher Masterson). The spurned Heath decides to get even with Cate by spitefully entering into a marriage with Edward's sister, Isabel (not Isabella, played by Katherine Heigl), who manages to entrap the sexy Heath (who has achieved a measure of fame as a rock singer) with the help of her bitchy best friend, Raquelle (Aimee Osbourne), a character with surprisingly no counterpart in the Brontë original. The original songs were penned by Jim Steinman, the man largely responsible for Meat Loaf's classic album Bat out of Hell. Originally titled Wuthering Heights, CA, apparently out of concern that somewhere, someone might confuse this opus with the original novel, Wuthering Heights first aired on September 14, 2003.
Critic Reviews for Wuthering Heights
All Critics (3) | Fresh (0) | Rotten (3) | DVD (3)
What looked like a good idea in ROMEO+JULIET - transporting classic literature into modern setting - turns into monstrosity in WUTHERING HEIGHTS.
A self-indulgent vehicle that forces the viewer to sympathize with insipid, stupid characters only by pinning them up against even more despicable and vacuous ones.
March 10, 2004 | Rating: 9/100
Audience Reviews for Wuthering Heights
Somehow my original rating for this was 4. Ahem. Just had a re-watch, years later, and it's actually quite painfully bad! The guys, in particular, can't act, and it's not Erika Christenson's finest hour and a half either (though I actually do quite like her). Katherine Heigl has a small role as a stereotypical bitchy beauty. It's not a stretch. It's an interesting idea and I like the modern take, watching the characters sing "more" is particularly entertaining, but it does have the look and feel of a TV movie. It probably was one, though I've only ever seen it on dvd. It's not a total waste of time, and it does have its moments, but if you're looking for a quality movie adaptation of this, this is possibly not it.
Nicki Marie
Super Reviewer
½
It was hard to like any of the characters... Johnny Whitworth's character was the worst... he had serious psychological problems and I simply loathed his guts. Erika Christensen's character Kate was a selfish, arrogant, capricious; impulsive, headstrong, slut. She couldn't make up her mind: she wants Heath she was Edward, she wants to go away she wants to stay here. She got on my nerves the whole time. Mike Vogel's character (Heath) is a brooding artist of passion and romance. At first I felt bad for him because he was abused and neglected in his childhood but that doesn't give him the right to be bitter, scornful, malicious, controlling and manipulating. Katherine Heigl's character Isabelle was selfish, spoiled, and prideful. I liked Christopher Masterson's character the whole movie until the end when he turned out to be a creep. I have heard many allusions to but never read Emily Brontë's novel. Now, after this movie, I know it will be a huge waste of my time. It will probably just depress me. If there is no one that I can admire in a book, I don't want to read it.
Dannielle Albert
Super Reviewer
Although a good effort by all actors, I could not overlook the lack of experience shown by Christensen and Vogel in their staring roles. Their performance seems forced at times and the rest of the more experienced supporting cast fails to deliver any support for both of these stars. A fresh take on the story but leaves much to be wanting.
Wuthering Heights Quotes
There are no approved quotes yet for this movie.