Torque
(2004)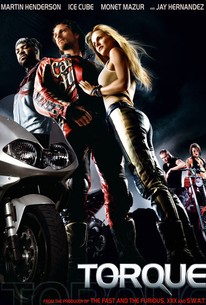 Movie Info
Biker Cary Ford has returned to his hometown to reunite with his girlfriend Shane and take care of a little unfinished business. When he skipped town months ago, Ford was in possession of several motorcycles belonging to Henry, a ruthless drug dealer and leader of the Hellions biker gang. Now Henry's putting the squeeze on Ford in an attempt to retrieve the bikes, which have something a little more valuable than gas in their tanks. When Ford is less than willing to cooperate, Henry frames him for the murder of Junior, younger brother of Trey, the fearsome leader of the Reapers motorcycle gang. With the help of his loyal buddies Dalton and Val, Ford must outrun an FBI agent who's hot on his trail while eluding both the misinformed Trey, hell-bent on revenge, and the callous Henry, who's dead-set on getting back what is rightfully his. Racing across the desert in a perilous attempt to prove his innocence and convince Shane that he's worth a second chance, Ford must outrace his enemies if he wants to clear his name and live to ride another day.
News & Interviews for Torque
Critic Reviews for Torque
Audience Reviews for Torque
WHAT THE HELL WAS THIS? this was one retarded movie. trash. this is one of those movies that you would see in a CVS pharmacy 1 dollar dvds basket on the way bottom.
Well, a lot action in a movie can be good, but sometimes if you put it too much, it can be a weaker point too, just like this movie.... The action scene with the motor racing thing was great, knowing that motor is more difficult to be filmed than car... The story just okay, but one thing that I don't like from this movie is the cast... Martin Henderson don't fit for the main character of this movie... He's not cool, not handsome, and more important that he's not winning everybody's heart... But the worst came from Ice Cube... He really really didn't fit to the role he played in this movie... If I have to be honest, maybe he's not destined to be an actor... The other cast just okay, just that two actors that make a big hole to this movie, besides the action scene that too much and the 'amateur' directing style this movie have....
Sanjaya 丘耀文
Super Reviewer
Everyone has a guilty pleasure movie they enjoy. THIS is one of those for me. It's bad. Oh, WOW, is it bad. But that's why I enjoy it so much. Bad cheesy acting, insane action, and hot chicks battling it out ninja-style while riding motorcycles. What's not to love?!?
Martin Bishop
Super Reviewer
Torque Quotes
There are no approved quotes yet for this movie.