Ned Kelly
(2003)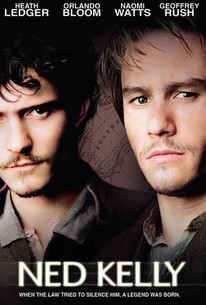 TOMATOMETER
AUDIENCE SCORE
Critic Consensus: More depth about the legendary outlaw would be welcome, but as it is, Ned Kelly is a reasonably entertaining Western.
Movie Info
In the latter part of the 19th century, Australia is still largely untamed. The former penal colony's first-generation Irish immigrant population lives in poverty. Having already experienced police brutality and the death of his father, bushranger Ned Kelly is wrongfully imprisoned on the trumped-up charge of stealing a horse. Emerging a few years later, in 1874, Ned is hardened but vows to stay straight. Rejoining his widowed mother and younger siblings, he makes money for his family as a champion bare-knuckle boxer. He also toils as a farmhand on the estate of an English landowner--with whose beautiful wife Ned shares a mutual attraction. But the British colonial system and its Victorian English enforcers remain prejudiced against Australia's working people, and the struggling Kelly family is no exception. When, in 1878, a bullying police officer is rebuffed by Ned's younger sister Kate and targets the family for harassment, Ned and his mother are unjustly charged with attempted murder. Ned is determined to avenge his family's name and strike back against his people's oppressors. While hiding in the bush, he forms a loyal Gang that includes his best friend Joe Byrne. When a chance encounter with the police culminates in three officers killed, the Kelly Gang is forced to go on the run. They blaze a trail through the Outback, robbing banks to fund themselves and giving police the runaround. The Kelly Gang's reputation as invincible outlaws grows, as does nationwide support from their immigrant countrymen. To the masses, Ned is a hero. To lawmen, he is the most wanted man in Australia. When the authorities bring in the formidable Superintendent Francis Hare to capture and/or kill the outlaws, Ned strategizes a risky showdown at the Glenrowan Inn. It is this event which will seal his fate--and his legend.
News & Interviews for Ned Kelly
Critic Reviews for Ned Kelly
Audience Reviews for Ned Kelly
Well that was lovely and depressing now, wasn't it? And a bit of a spoiler, but that is the second time I have had to watch Orlando Bloom die on screen. It doesn't get any easier. Speaking of, I liked him in this role! Less stiff and form, a bit cuter and jokey than oh... all of his other roles? I also wished Geoffrey Rush's part was a bit bigger, but such is life. I liked it for what it was, but I was overwhelmingly captivated by it all. I watched it for pretty faces and I kinda got that.
Jennifer D
Super Reviewer
This outback-set western is based on the life of Ned Kelly, Australia's most celebrated outlaw who enjoyed a Robin Hood like reputation in the late 19th century. Although a lot of period set, rose-tinted tales of the old west tend to romanticize their heroes, Ned Kelly's reverential treatment of the subject matter goes beyond romanticism and into sheer fantasy. All the lawmen are a bunch of corrupt, murdering rapists, save Geoffrey Rush who hardly gets a look in, and Ned Kelly is shown as a totally innocent and noble champion of the people and he and his gang sweep through the land robbing from the rich and giving to the poor, stopping only for some wombat stew and to bed some swooning groupies. The characterisation as a whole is borderline laughable, Heath Ledger having little to do but attach a small shrub to his face and look earnest. It does have some decent photography and a decent shoot out at the climax, but the endless quivering lower lips accompanied by penny whistles that lead there makes it barely worthwhile. Content to rip off the likes of Jesse James and Braveheart rather than present anything approaching a believable portrait of the man, this pseudo-historical claptrap left me rather cold and far worse, rather bored.
½
Story of the impoverished Irish immigrant Kelly family living in Australia in the latter part of the 19th century. Bushranger Ned Kelly(Heath Ledger) is wrongfully accused and imprisoned of stealing a horse, but emerges a few years later with his mother and siblings in which he makes money as a bare-knuckle boxer. After Ned and his mother are unjustly charged with murder, Ned Kelly is determined to avenge his family's name and strike back against his people's oppressors. Ledger's portrayal of the Jesse James-esque Kelly is quite brilliant as he and his gang become the invincible "outlaws" of the Outback. Ned Kelly becomes a legend/hero, and still is to this day for his valor, and keen insight into justice so often ignored by so called authority figures.
Ned Kelly Quotes
| | |
| --- | --- |
| Kate Kelly: | They said i'd lost what it meant to be human, maybe never had it in the first place, but wasn't this about protecting the ones I loved? The ones who gave me food, and shelter, even the clothes on me back? And therefore wasn't it now a war? |
| | |
| --- | --- |
| Ned Kelly: | Such is Life |
| Ned Kelly: | Such is life. |