Perfect Strangers
(2003)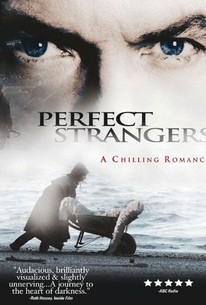 Movie Info
Written, directed, and co-produced by Gaylene Preston, Perfect Strangers centers around the romance between Melanie (Rachael Blake) and the handsome stranger (Sam Neill) who charmed her into joining him at his "castle." The so-called castle is little more than a beat-up shack on a deserted island, however, and it isn't long before her admirer's charm turns into all-out obsession. Clued into the fact that the romantic tryst has degenerated into kidnapping, Melanie makes plans to escape, but the stranger has other ideas. Perfect Strangers was filmed on the remote west coast of New Zealand's South Island and features music by Neil Finn.
Critic Reviews for Perfect Strangers
Audience Reviews for Perfect Strangers
this movie gets two stars purely for sam neill looking gorgeous!! This isnt the one with Bruce wilis and Halle Berry, this movie is about a man who is in love with a woman who he knows everything about but she knows nothing about him!! He kidnaps her, shes stabs him and this leads to a whirlwind of weird love that is strange, weird and probably the most stupid storyline in the world!! Its boring predictable, weird and just plain rubbish, however Sam Neill looks so gorgeous!!
Film Crazy
Super Reviewer
Perfect Strangers Quotes
There are no approved quotes yet for this movie.