Madeleine
(1950)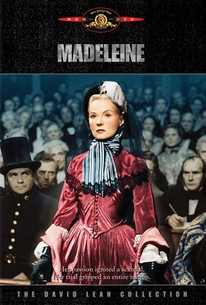 Movie Info
David Lean's Madeleine was inspired by a true story that rocked the English legal system to its foundations in the mid-19th century. Told in flashback, the film explains why aristocratic young Scotswoman Madeleine Smith (Ann Todd, then the wife of director Lean) is on trial for murder. The audience is apprised of Madeleine's illicit romance with deceptively charming Frenchman Emile L'Angelier (Ivan Desny), her futile attempts to break off the relationship, her "proper" betrothal to Englishman William Minnoch (Norman Wooland), and the murder by poison of the now-inconvenient L'Angelier. The jury's verdict was as controversial in 1950 as it had been a century earlier. David Lean and scenarists Stanley Haynes and Nicholas Phipps refuse to take sides, permitting the viewers to draw their own conclusions about the notorious Madeleine.
Critic Reviews for Madeleine
Audience Reviews for Madeleine
Another piece of Lean excellence as he handles a story of dark romance and accusations of murder. It's a rare ambiguous story as we see what the court is told and yet nothing more. Whether she is guilty or not is entirely in our hands as the audience. We're not spoon fed and it works tremendously well. The romantic 1st half is well plotted and we can understand perfectly how Madeleine's affections change. It's a good old fashioned romance where love isn't enough. Other things such as respect, class and social standing must be considered. It's also great to see a film in which the man the parents approve of isn't some slimy arrogant social misfit. It intrigues and entertains but you can't expect much less from a Lean picture.
Luke Baldock
Super Reviewer
Madeleine Quotes
There are no approved quotes yet for this movie.