King Arthur
(2004)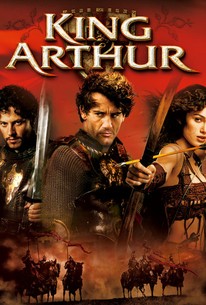 Movie Info
Historians have thought for centuries that King Arthur was only a myth, but the legend was based on a real hero, torn between his private ambitions and his public sense of duty. A reluctant leader, Arthur wishes only to leave Britain and return to the peace and stability of Rome. Before he can head for Rome, one final mission leads him and his Knights of the Round Table, Lancelot, Galahad, Bors, Tristan, and Gawain to the conclusion that when Rome is gone, Britain needs a king--someone not only to defend against the current threat of invading Saxons, but to lead the isle into a new age. Under the guidance of Merlin, a former enemy, and the beautiful, courageous Guinevere by his side, Arthur will have to find the strength within himself to change the course of history.
Critic Reviews for King Arthur
Audience Reviews for King Arthur
There's some blarney about "searching for historical fact" woven into the story but basically what you get is an old timey adventure/propaganda/nationalism piece about how ENGLAND! (always said in capital letters w/an exclamation in this film) rose from the ashes of nations to become A LAND OF FREE MEN! (They let some women come along with 'em, too.) Ehh.
Kevin M. Williams
Super Reviewer
Great war film! Bizarre history angle, but I loved it!
Christian C
Super Reviewer
King Arthur is another mediocre action film by director Antoine Fuqua, who isn't that skilled as a director to begin with. I felt that the films action scenes were well done, but unfortunately that's about it going for it. The plot is under developed, and never really interesting. I think it's a great shame because King Arthur could have been quite an epic film, unfortunately, it isn't. Fuqua's direction is clumsy and unfocused, and the film suffers because of it. Under a different director, the film could have succeeded, but the film is a mediocre attempt at a historical epic, and the end result is a film that doesn't really make you satisfied. The casting choices for this film are very questionable as well. Aside from Sin City and Shoot Em' Up, I'm not a fan of Clive Owen, and in this film he's pretty bad. So is Keira Knightleey, who usually is a good choice for period pieces, but this isn't a period piece film that she should've starred in. Most of the cast are not right for the part, and Fuqua doesn't know how to craft an action epic, and the flaws are apparent on-screen. The film could have been much better; unfortunately the result is a film that is a badly acted and plot mess that will make you lose interest halfway through the end of the film. King Arthur could almost be seen as a guilty pleasure; however, I think the mediocrity of this film is too much for me to see it that way. I don't view King Arthur as an awful film, but almost. The film could have been much better with a better, much developed storyline and a better cast. Oh well, don't get overly excited before watching this film, you may end up disappointed, I was.
King Arthur Quotes
| | |
| --- | --- |
| Tristan: | You are free now. |
| | |
| --- | --- |
| Bishop Germanius: | We are all going to die someday. If it's death by a Saxonhand that frightens you, stay home! |
| Tristan: | We are all going to die someday. If it's death by a Saxonhand that frightens you, stay home! |
| | |
| --- | --- |
| Lancelot: | I don't believe in heaven. I've been living in this hell. But if you represent what heaven is, then take me there. |
| | |
| --- | --- |
| Artorious Castus: | Deeds in themselves are meaningless unless they're for some higher purpose. |