Almost Peaceful
(2004)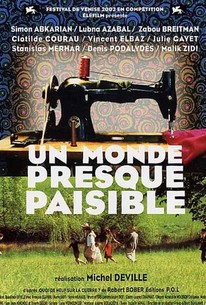 Movie Info
A group of Jewish Holocaust survivors attempt to restart their lives after Europe's liberation from Nazi occupation in director Michel Deville's 2002 ensemble drama Almost Peaceful. Husband and wife couple Albert (Simon Abkaryan) and Lea (Zabou Breitman) attempt to rebuild their tailoring business in central Paris, starting with the hiring of staff for their company. All of their new employees have been scarred -- in varying degrees -- by their experiences during the war. Charles (Denis Podalydes) lost his entire family to the death camps, while Maurice (Stanislas Merhar) seems to be unable to sustain long-term relationships and -- as a result -- frequents whorehouses for companionship. While all of them initially refuse to discuss their experiences during the war, they all also eventually realize that the only way to truly move forward with the rest of their lives is to come to terms with their pasts.
Critic Reviews for Almost Peaceful
Audience Reviews for Almost Peaceful
An interesting movie that centralizes around a tailor, his wife, and their work companions after the end of World War II. Great cast- Simon Abkarian, Clotilde Courau, Julie Gayet, Lubna Azabal, Stanislas Merhar, and Malik Zidi. Worthy!
Almost Peaceful Quotes
There are no approved quotes yet for this movie.