Chain of Fools
(2000)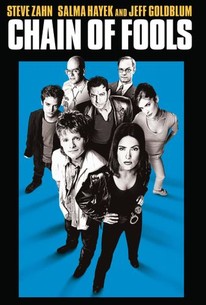 AUDIENCE SCORE
Critic Consensus: No consensus yet.
Movie Info
In this independent comedy, a man finds stolen treasure cannot change his bad luck. A luckless barber (Steve Zahn), despondent over his life's downhill slide, is considering suicide when he comes across a stash of rare and valuable coins. But the coins turn out to be stolen, and before long, an increasing number of strange people are after him, the coins, and each other, including hired thief Avnet (Jeff Goldblum). The barber's confusion isn't helped when he finds himself falling for Sgt. Meredith Kolko (Salma Hayek), a centerfold-turned-police detective who is investigating the theft. The film's supporting cast includes Orlando Jones, Michael Rapaport, David Hyde Pierce, and Claudia Schiffer. Shot under the title Shiny New Enemies, Chain of Fools is the first feature directed by Pontus Lwenhielm and Patrick Von Krusenstjerna, members of the Swedish filmmaking collective Traktor, best known for their innovative television commercials, including the Miller Beer "Presented By Dick" campaign. ~ Mark Deming, Rovi
Critic Reviews for Chain of Fools
There are no critic reviews yet for Chain of Fools. Keep checking Rotten Tomatoes for updates!
Audience Reviews for Chain of Fools
½
Chain of Fools isn't your typical laugh out loud movie, but it is a unique film with an interesting story and a chain of awesome guest appearances. Picture Ocean's Eleven, but instead of criminal masterminds, imagine the crew was just a bunch of idiots who fell into the perfect crime, and you'll understand what this film is about. Steve Zahn plays the lead and was terrific as the barber whose always in the wrong place at the wrong time. He wasn't my favorite of this unique cast of characters however, that award goes to Elijah Wood, who was hilarious as the emotionally scarred teenage hit man. Seeing this little guy, who Scotty could have beaten up, as the big bad hit man was just hilarious. Wood even attempts to grow a mustache for the role and fails miserably. On the surface this is a strange film and as you watch it, it gets stranger, but at the same time, it gets better and better. This is the kind of film you won't see very often, but watching it definitely has its advantages.
Todd Smith
Super Reviewer
½
"Now it's being used" Another silly comedy/crime movie with a touch of deadpan humour, I feel I'm rating this a bit high but I always enjoy watching silly fun movies
Leigh Ryan
Super Reviewer
Chain of Fools Quotes
| | |
| --- | --- |
| Hit man: | If I don't kill him, I don't get paid. Look, my wife just had twins. I have to kill him just to keep my kids in diapers. |
| | |
| --- | --- |
| Kresk: | Hey, Paulie. You probably don't remember me. My name is Kresk. You used to beat the hell out of me at Our Lady of Peace Elementary. |
| | |
| --- | --- |
| Kresk: | Hey, Paulie. You probably don |
| Kresk: | You probably don't remember me. My name is Kresk. |
| | |
| --- | --- |
| Bollingsworth: | He stole the stewardship of the Ma Jong Society right from under my nose. |