Cube Zero
(2004)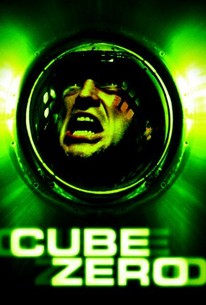 AUDIENCE SCORE
Critic Consensus: No consensus yet.
Movie Info
Writer/director Ernie Barbarash helms this prequel to the sci-fi thriller Cube, with events that unfold some time prior to those in first picture. Here, another group of prisoners navigate the treacherous confines of their futuristic trappings. Each step is potentially the last as the deadly last traps hidden in the sparse rooms find the numbers of the unwilling prisoners quickly thinning. Only when they can figure out the mysteries of their constantly changing prison will the surviving inmates have any hope for escape, and even then there is no guarantee of freedom -- much less survival. As the cube workers who monitor the prisoners progress bear witness to their increasingly grim bid for survival, a sudden sting of remorse finds one of the employees empathizing with the victims and plotting to assist them in their unlikely escape.
Critic Reviews for Cube Zero
Audience Reviews for Cube Zero
½
Third entry of the Cube series is a prequel to the original. This was a decent entry in the series, but it felt even more like a B movie film. Yes, the first two were low-budget affairs, but they were creative, and unique. Exploring ideas that were really intriguing in the horror medium. Cube Zero is an interesting, but flawed prequel. Compared to the first film, this film really is inferior in terms of quality, and there's plenty of room for improvement in this film. The ideas expressed in this prequel are interesting, but lack something to really make this a standout film in this trilogy. The acting is pretty decent here, nothing ever great. The film had some good ideas here, but at time you can see the film missing the mark and what could be a good prequel ends up being a decent Sci Fi horror flick. This film is never anything great, and it's a shame because this film could have been a memorable prequel. This film could be much better, and it's a shame that there was such a lot of potential here to make this a great prequel, but in ends up being a decent film. Don't expect much from this one, expect to be mildly entertained, and you won't be disappointed. However you'll realize that there's something missing from this film to really make it standout. As a whole, this prequel is simply a decent prequel with a lot of potential to really make it great. Unfortunately the scripts limitations prevents this from being a terrific film.
½
Erin Barbarash's Cube Zero looks to explore more of the universe started by the original Cube movie.
Slated as a prequel to the first Cube film, this picture, more or less, stands on its own; however, those that have viewed the original film will understand more about the concept, as well as get a kick out of the ending.
After an intense opening sequence, the film splits the time inside the cube with time outside of the cube. These "exterior" scenes tend to provide the answers for why this is happening. The problem is that it also raises other questions. Basically, the story is answering questions with questions.
The deaths are quite gruesome, but there is just not enough time spent in the cube to keep these scenes, as well as the suspense level, up at good entertainment value. This is a shame.
The acting is decent, but not great as Stephanie Moore and Zachary Bennett fail to leave their mark on the film. Michael Riley, on the other hand, is quite the character in this one.
This 90 minute picture does expand out, but in doing so it also fails to deliver in other areas.
I watched this Movie twice, honestly it bored me alot.
Cube Zero Quotes
There are no approved quotes yet for this movie.