Celsius 41.11
(2004)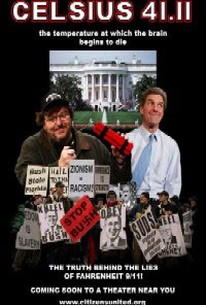 Movie Info
Celsius 41.11 was an attempt by conservative pundits and politicians to respond to the runaway box-office success of Michael Moore's Fahrenheit 9/11. The film features interviews with such notable public figures as Fred Barnes, Michael Medved, Fred Thompson, and Charles Krauthammer and offers a dissection of the democratic party's 2004 nominee for president, John Kerry.
Critic Reviews for Celsius 41.11
Audience Reviews for Celsius 41.11
A hard hitting, fact based documentary, Celsius 41.11 examines the anti-Bush movement as well as several of the controversies that surround 2004 Democratic presidential nominee Sen. John Kerry. It begins by analyzing the charges made against President George W. Bush, such as stealing Florida and voter suppression in the 2000 election, and lying about WMDs (Weapons of Mass Destruction) in Iraq. Particular attention is given to leading Bush critic Michael Moore and his propaganda film Fahrenheit 9/11; debunking its numerous lies and inaccuracies (such as the Afghanistan oil pipeline). The film then examines Sen. John Kerry and the criticisms levied against him about his Vietnam service and anti-war activities, and his history of "flip-flopping" on national defense issues. A number of experts and political commentators are interviewed and offer rather astute analyses. However, the production values are kind of weak and the narrative is a little uneven; lacking a cohesive throughline tying everything together. Still, while it has some rough edges, Celsius 41.11 presents a compelling (and rational) defense against the liberal conspiracies that are inflaming political divisiveness.
Dann Michalski
Super Reviewer
Celsius 41.11 Quotes
There are no approved quotes yet for this movie.