Hostage
(2005)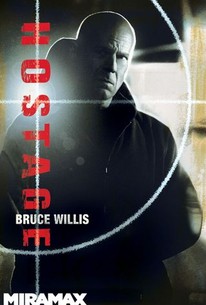 Movie Info
A failed police negotiator turned small town cop, must save the lives of a family held hostage, which draws him into a much more dangerous situation.
Critic Reviews for Hostage
Audience Reviews for Hostage
Willis plays a worn out big city cop (his career cliche) negotiator who scales back his life and tries to go country to relax ... guess what happens? Ben Foster actually plays the psycho killer cliche with praiseworthy empathy in this rote action/thriller exercise with no surprises.
Kevin M. Williams
Super Reviewer
Run of the mill Bruce Willis action flick and I love me some Bruce Willis so it was definitely a good time. I did feel like this was an older movie, not sure if that's a good thing or not.
½
"I'm your brother! So you gotta choose. Me, or Mars? - I choose the money." "Hostage" was Bruce Willis' rise back to the A-class of action movie stars. Directed by Florent Siri, this movie was one of the better action movies of 2005. The cast in "Hostage" features a lot of talented young actors. Ben Foster and Jonathan Tucker have done, during the last few years, some good work, so I expect good performances from them in the future. "Hostage" is a good acted, exciting film with some explicit violent scenes. The actions of the kids are brutal and unplanned. Bruce Willis' small town cop, formerly employed as a negotiator, has to save the hostages also because his familys lifes are at stake... Good to see Willis do that what he's best at. "Hostage" is one of Willis' most notable performances. A pure adrenaline rush with some twists that will keep you on the edge.
Hostage Quotes
| | |
| --- | --- |
| Mars Krupcheck: | Safety first. |
| | |
| --- | --- |
| The Watchman: | You wait for my people or I will cut your daughters heart out! |
| Jeff Talley: | Fuck you. Go ahead, kill my family. Kill me. But before you do, I'm gonna get in Smith's house, I'm gonna box up all that death motherfucker's DVDs, and you and the Feds can bid on them on E-bay! How's that, smart-fuck!? |