Are We There Yet?
(2005)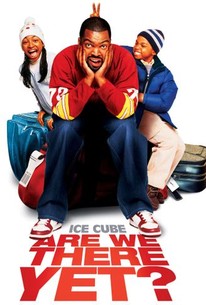 TOMATOMETER
AUDIENCE SCORE
Critic Consensus: This supposed family comedy staring the usually blameless Ice Cube and Nia Long has provoked most critics to write, "Is it over yet?"
Movie Info
Rapper and actor Ice Cube shows off his softer side in this family-friendly comedy. Nick Persons (Ice Cube) is a dealer in sports collectibles who has fallen for beautiful executive Suzanne Kingston (Nia Long). However, Nick discovers he has a bigger task than just winning her over -- Suzanne is a divorced mother with two children, Lindsey (Aleisha Allen) and Kevin (Philip Daniel Bolden), and the kids don't believe any man besides their father is fit for their mother to date. Even though Nick doesn't care much for kids, he's eager to win Lindsey and Kevin over to score points with Suzanne, and so when business commitments threaten to strand Suzanne in Vancouver without her children for New Year's Eve, Nick volunteers to escort them. But when Nick is bumped from an airline flight due to a corkscrew in his pocket, he's forced to drive the kids to Canada, and Lindsey and Kevin see this as a golden opportunity to make life very difficult for Nick. Ice Cube served as both star and producer for this project.
Critic Reviews for Are We There Yet?
Audience Reviews for Are We There Yet?
½
Your average comedy that had somewhat funny scenes throughout. A good film, but not great.
Bethany Murphy
Super Reviewer
"Ice Cube needs to learn to leave acting to actors. Not rappers, not athletes, actors."-Marc L., "xXx: State of the Union" review It seems that Ice Cube has not learned, but rather decided that because he can not get any praise in the action genre, he'll take a shot at the family genre. Needless to say, I'm missing State of the Union. This movie was painfully unfunny, painfully predictable and pretty dark for a kids movie. There was some good I guess. The child actors (Aleshia Allen and Phillip Daniel Boyden) did a surprisingly good job playing the kids. There on their way to successful careers. Unfortunatley, the characters they play are simply evil. They are spolied, obnoxious and loud. Not to mention the little demons are downright PSYCHOTIC! They enjoy torturing her mothers boyfriends, sneaking knives into Ice Cube's backpack at plane stations and GET THIS...THROW BUCKETS OF ROCK HARD ICE AT PEOPLE! Do they realize that can kill people? Don't worry, the mother is just as bad. They don;t say it out loud, but the mother seems to hate her kids. She basically gives them to Ice Cube's character because she's so sick of them. And know we move over to Cube himself. Once again, he cannot act, and most of his dialogue consists of "AHHHH!!!!" The humor was even worse. The humor in this movie includes horribly unfunny slapstick, bodily humor, peeing on old women and a talking boble head. That's right, a talking bobble head. Why is there a talking bobble head?!!!! The musical number in the movie is painfully forced, and is one of the biggest "big lipped alligator scenes" I've EVER seen. Cube, I'm willing to forgive you as long as you stop making crappy films and start going back to your fantastic rap career.
Marc Lewis
Super Reviewer
½
Fun for the family, but not for your funny bone
Jim Careter
Super Reviewer
Are We There Yet? Quotes
| | |
| --- | --- |
| Nick Persons: | (Lindsey plays crazy frog). No no. Where I'm from, playing stuff like that would get you shot (plays rap instead) |
| Nick Persons: | No no. Where I'm from, playing stuff like that would get you shot. |
| | |
| --- | --- |
| Lindsey Kingston: | [Impressed by Nick and Kevin feeding a deer in the woods] No way! Where's my camera? |
| Lindsey Kingston: | [impressed by Nick and Kevin feeding a deer in the woods] No way! Where's my camera? |
| | |
| --- | --- |
| Nick Persons: | [To Kevin, referring to the deer] See? He's gentle. |
| Nick Persons: | [to Kevin, referring to the deer] See? He's gentle. |
| | |
| --- | --- |
| Lindsey Kingston: | I knew you were lyin'! "Yeah, we're just friends," yeah, right! You're just usin' us to suck up to our mama! |
| Lindsey Kingston: | I knew you were lyin'! 'Yeah, we're just friends,' yeah, right! You're just usin' us to suck up to our mama! |
| Nick Persons: | What?! |