King Solomon's Mines
(2004)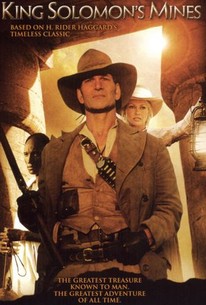 AUDIENCE SCORE
Critic Consensus: No consensus yet.
King Solomon's Mines Photos
Movie Info
This four-hour cable miniseries adaptation of H. Rider Haggard's classic adventure novel King Solomon's Mines dispenses with much of the original story in favor of a standard Indiana Jones-esque melodrama, complete with claim-jumping villains, snarling Russian soldiers, an ancient and deadly curse, and a damsel perpetually in distress. As played by Patrick Swayze, Haggard's hero, celebrated British safari hunter Allan Quartermain, is a born-again conservationist who returns to his former trade only to raise enough money to retain custody of his beloved son. Quatermaine accepts the assignment given him by toothsome Elizabeth Maitland (Alison Doody), to head into darkest Africa in order to rescue Elizabeth's father (John Standing), who had disappeared while searching for the fabled lost gold mines of King Solomon. This time around, the mines harbor another elusive treasure: the mysterious Stone of Power, which functions in much the same manner as the Ark of the Covenant the Indiana Jones pictures. Along for the ride are Quatermain's trusted friend Sir Henry (Ian Roberts), and loyal African guide Umbopa (Sideda Onylulo), who has traditionally been the story's most likeable and admirable character in all previous film and TV adaptations of the novel. The main villain, largely spun from whole cloth for the purposes of the miniseries, is Quatermain's greedy ex-partner Gavin Hood (Bruce McNabb). Debuting June 6, 2004, the two-part King Solomon's Mines posted some of the Hallmark channel's best-ever ratings.
Critic Reviews for King Solomon's Mines
There are no critic reviews yet for King Solomon's Mines. Keep checking Rotten Tomatoes for updates!
Audience Reviews for King Solomon's Mines
Enjoyable remake based on the TV movie of H. Rider Haggard's tale. I liked seeing an older Patrick Swayze as the hero. He was very believable as the hunter Allan Quartermain and certainly bested the performance of Richard Chamberlain. And Alison Doody is attractive as Elizabeth Maitland, who hires Quatermain to help rescue her father. The rest of the cast were terrific and followed the plotlines very well. I am glad to see that the actors of this generation are not afraid to try on different characters and are not afraid to be seen as getting older.
Dean McKenna
Super Reviewer
King Solomon's Mines Quotes
There are no approved quotes yet for this movie.