The Private Lives of Elizabeth and Essex
(1939)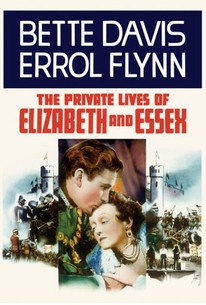 The Private Lives of Elizabeth and Essex Photos
Movie Info
It is no secret that Bette Davis and Errol Flynn were at each other's throats throughout the filming of The Private Lives of Elizabeth and Essex. Boiled down to essentials: Davis felt that Flynn was unprofessional, while Flynn thought that Davis took herself too damned seriously. Besides, Davis had wanted Laurence Olivier to play the Earl of Essex opposite her Queen Elizabeth I. She was forced to compromise on this point, but refused to allow Flynn proxy top billing via his suggestion that the film be retitled The Knight and the Lady. The finished product, a lavish Technicolor costumer allowing full scope to Davis' histrionics and Flynn's derring-do, betrays little of the backstage hostilities (though Flynn does seem uncomfortably hammy in his scenes with Davis). Adapted by Norman Reilly Raine and Aeneas McKenzie from Maxwell Anderson's blank-verse play Elizabeth the Queen (which served as the film's reissue title), the story concerns the tempestuous relationship between the middle-aged Elizabeth and the ambitious Essex. At one point, the Queen intends to marry Essex and relinquish her throne, until she realizes that his plans for advancement would ultimately prove disastrous for England. When afforded the opportunity to execute Essex for treason, she reluctantly signs his death warrant. Minutes before his final walk to the chopping block, Elizabeth begs Essex to ask for a pardon. But Essex, fully aware that his warlike policies will only resurface if he is permitted to live, refuses to accept the Queen's mercy, and goes off to meet his doom. Olivia de Havilland is wasted in the role of a lady-in-waiting who carries a torch for Essex. If the scenes of Essex' triumphant return to London after winning the battle of Cadiz seem familiar, it is because they were reused as stock footage in Warner Bros.' The Adventures of Don Juan (1949) and The Story of Mankind (1957).
Critic Reviews for The Private Lives of Elizabeth and Essex
Audience Reviews for The Private Lives of Elizabeth and Essex
A film that basically relies on exchanges of fine dialogue. The war scenes are now dated and the final act is very weak, with the characters saying one thing only to contradict themselves and keep the plot moving, but Davis raises the movie from ordinary to enjoyable.
Carlos Magalhães
Super Reviewer
½
Hadn't seen this until now and I was really surprised and pleased at the outcome. Being a story based around romance with much slow burning dialog I was fearful that I would be bored but this is very much in the same vein as 'Robin Hood' with its Technicolour vibrancy, lavish costumes and sets. When I say lavish I mean stunningly beautiful and bold right down to the last detail!, its exquisite in some scenes, every set is awesome and looks pretty faithful to what it may have looked like, albeit a bit fantasised. The costumes are also tremendous, every man and woman is dressed in amazing period attire that makes you wanna try them on yourself, dem threads!. Much of the drama unfolds on obvious sets, beautiful as they are they still look like sets. Same with some location work...its all obviously Warner back lots with the odd walkabout in California state somewhere, but you can forgive. As for acting its the usual stuff from Errol, kinda wooden and kinda basic but always looks good while doing it, though here he is clearly outdone by Davis as Elizabeth. Powerful, forceful and most of all believable as the tough female Queen, Davis was deep in her character shaving her hairline and eyebrows for that true Elizabethan look. Flynn and Davis did not get on well as I have read and the scene were Davis slaps Flynn across the face in the courtroom was actually a genuine slap and Flynn's reaction is quite real. He was pissed big time! classic silver screen moment. Davis storms away with this film though, Flynn is a mere speck to her thundering performance. Along the way we have Alan Hale again, this time against Flynn in Ireland. Check the beautiful swamp sets for the battles in Ireland, and of course the lovely Olivia De Havilland as the lady in waiting Penelope Gray. Lastly enter the great Vincent Price as Sir Walter Raleigh, looking the part in his beautiful outfits and adding a unique feel to the part with his classic vocal tones. Its all Curtiz genius again as he produces yet another stunning epic technicolour masterpiece. Nowhere near as much action and excitement as 'Robin Hood' but it actually looks MORE lavish than Hood if that's even possible. Plenty of verbal but its not boring in any way, the smooth bright dream like colours and grand visuals keep you watching. But like all Flynn films its not historically accurate so there is a little fun to be had, Hollywood always uses a bit of artistic licence, yet its clearly one of his more sensible films with little to no swashbuckling or shooting.
Phil Hubbs
Super Reviewer
Another average historical drama with an all star cast. Worth watching, but not always very interesting.
The Private Lives of Elizabeth and Essex Quotes
There are no approved quotes yet for this movie.