Cat and Mouse (Liu sue oi seung mau)
(2003)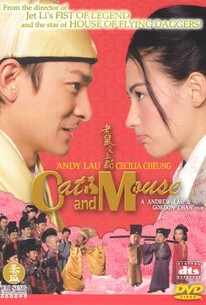 AUDIENCE SCORE
Critic Consensus: No consensus yet.
Cat and Mouse (Liu sue oi seung mau) Photos
Movie Info
Director Gordon Chan (Fist of Legend) presents this light romantic action-comedy about a young woman with a secret alter-ego. Andy Lau stars as Zhan, a policeman who's constantly in pursuit of a well-intention and skillful criminal who robs from the rich to give back to the underprivileged. All the while, a romance is blossoming between Zhan and Bai (Cecilia Cheung). Little does Zhan know that the crook and his sweetheart are one and the same. Anthony Wong also stars.
Cast
Critic Reviews for Cat and Mouse (Liu sue oi seung mau)
Audience Reviews for Cat and Mouse (Liu sue oi seung mau)
Director Gordon Chan comes up with a movie that is as playful as the title, Cat and Mouse.
The story isn't all that great as it is sort of choppy. The run time is only an hour and a half, but it takes a while for the story to actually pick up and mean something. The first 20 minutes is like watching some silly mumbo jumbo. Sure it is upbeat, but there is nothing happening. Eventually the story gets going, and then it gets a little silly again with the little love triangle that the film develops before progressing with the story again.
Although this entire film is bouncy and full of life, it does take away some of the seriousness, which this film needs, since it isn't a full blown comedy. The other thing about the comedy is that a lot of the jokes and dialogue feel out of place with the setting.
The martial arts is OK, considering it is Andy Lau and Cecelia Chung providing most of it. The bad part is that there is just too few of it. Way too few. Stay away from this if you are wanting to see a lot of fancy swordplay.
Andy Lau shows how versatile he is by playing the lead in a film like this. The beautiful Cecelia Chung, who is probably the main reason to watch this, is pretty good herself. It's funny how she ends up wearing an unbelievable mustache and beard and having people think she is a guy for a good portion of the story. Tat-Ming Cheung's acting fits well in this picture, but he is an awful emperor. Li Bingbing is the calm in the storm, making her character a little bland.
Cat and Mouse may be a little childish, but it is a good watch if you like this type of film. Andy Lau and Cecelia Chung fans will also want to check this out.
Anthony Valletta
Super Reviewer
Cat and Mouse (Liu sue oi seung mau) Quotes
There are no approved quotes yet for this movie.