Sahara
(2005)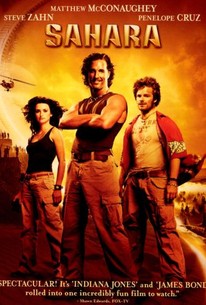 Movie Info
Matthew McConaughey stars as explorer and adventurer Dirk Pitt in this adaptation of the best-selling novel by Clive Cussler. Pitt thinks he may have found both a fortune and the answer to a long-standing mystery when he discovers a rare coin in the waters of a river in West Africa. During the Civil War, an ironclad battleship with a valuable cargo went missing, and Pitt's theory is that the coin places the ship somewhere in the Sahara Desert. Pitt and his goofy sidekick, Al Giordino (Steve Zahn), set out to find it, but along the way they make the acquaintance of Dr. Eva Rojas (Penélope Cruz), a scientist and physician who is trying to determine the source of a strange and deadly disease sweeping the nation. As Eva joins Dirk and Al, they begin to wonder if the mysteries they're trying to uncover might be somehow linked. Sahara was only the second of Cussler's Dirk Pitt adventures to be adapted for the screen; the first, 1980's Raise the Titanic, was publicly dismissed by the author.
Critic Reviews for Sahara
Audience Reviews for Sahara
So I've read this is THE most expensive flop in Hollywood history, was a bit of a surprise to me I must say but I can see why really. The whole franchise based on the Dirk Pitt novels has collapsed after this first film which isn't a big deal really seeing as the character is a combination of Indy Bond and Errol Flynn, overly cliched and overused. The film is really a poor man's Indiana Jones, a poor man's Indiana Jones in the present day basically, yet somehow the film is almost two hours long and really quite dull. The whole film consists of the heroes running around African desert whilst being shot at by various people really, there is a silly plot about trying to find a buried American civil war ironclad warship and also a plot about stopping most of the African water supply getting poisoned. Personally I feel like they have gotten the era's mixed up, McConaughey looks and acts like a kind of dashing cinematic silver screen legend of the 30's-40's yet he is in the present day and accompanied by the rather whiny and annoying Zahn. Both the main leads are always clad in desert colour outfits which all seems to have stemmed from Indiana Jones, there is the all too common vintage car racing through the desert whilst been shot at sequence, Cruz is completely pointless throughout, it tries to be funny but fails and the ending is a rip roaring anti-climax. To be frank I think this failed because its set in the present day and we already have a character for that and his name is James Bond. These type of adventures seem to work better when period set, 'The Mummy' films and 'The Phantom' are good examples of this type of boys own wilderness set adventures that work in another era. I still don't get how the CSS Texas was shown at the start of the film in Virgina, US and ends up in the Niger River, Africa, anyone?? Plus on a final note...Dirk Pitt has to be one of the dumbest attempts at a cool heroic name I've come across for some time.
Phil Hubbs
Super Reviewer
½
"Sahara is action packed with not even one boring moment. I really liked McConaughey and Zahn together on screen. They have great chemistry and work great off of each other. Penelope does a good job in this too. Macy brings humor to the mvoie. I liked his character. I appreciate humor in a movie when it's not meant to be a comedy. It makes the film more enjoyable and Zahn is very funny in this. It's a great adventure film if you get the chance to see it."
♥˩ƳИИ ƜѲѲƉƧ♥
Super Reviewer
Standard buddy action flick adventure fare where gold hunters wind up saving an African country in the process. Fun if predictable, the kind of fantasy where our heroes have a gunfight with a whole army and never get shot even once. Penelope Cruz plays the buxom babe while Steve Zahn handles the capable buddy chores.
Kevin M. Williams
Super Reviewer
Sahara Quotes
There are no approved quotes yet for this movie.