The Muppets' Wizard of Oz
(2005)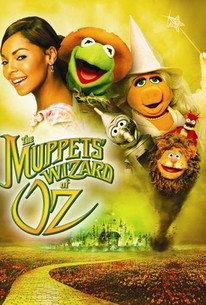 Movie Info
L. Frank Baum's enduring fantasy story gets a new and very funny spin in this made-for-TV comedy. Dorothy (Ashanti) is a young woman who works in a diner in Kansas owned by her Aunt Em (Queen Latifah) and dreams of one day making it big as a singer. When a tornado makes its way through the trailer park Dorothy and Em call home, the young woman is spirited off to a magical land known as Oz, where she accidentally kills the most wicked witch in the land. Dorothy, however, isn't so sure she wants to stay, and sets off to find a wizard who might be able to help her. As Dorothy searches for the wizard's castle, she makes some friends along the way -- a scarecrow (Kermit the Frog, voiced by Steve Whitmire), a cowardly lion (Fozzie Bear, voiced by Eric Jacobson), a combination robot and computer made of tin (The Great Gonzo, voiced by Dave Goelz) -- but she also has to fend off The Wicked Witch of the West (Miss Piggy, voiced by Eric Jacobson), whose sister fell victim to Dorothy upon her arrival in the strange new land. Featuring most of the best-known Muppet Show characters, The Muppets' Wizard of Oz also features guest appearances by Jeffrey Tambor, David Alan Grier, and Quentin Tarantino.
Critic Reviews for The Muppets' Wizard of Oz
Audience Reviews for The Muppets' Wizard of Oz
½
Ah the little known Oz adventure that I believe is the tenth Muppet movie before they stopped the classic story adaptations and rebooted the idea afresh in 2011 with 'The Muppets'. This was an American/Canadian collaboration that was primarily for Television. This is of course the Muppet version of events based on L. Frank Baum's original novel. I'm sure everyone knows the story by now so I won't delve deep into that but instead take a quick look at some of the Muppet changes. Noticeable changes start with Dorothy's family now owning a diner in Kansas instead of a farm. Dorothy and her family are now African American. Dorothy initially goes to see the Wizard so he can make her...ugh! A famous singer (facepalm). Toto the dog is now...a prawn. Yes literally a common prawn in a fish tank (who later becomes Pepe). The Tinman (Gonzo) is now a robot. The Cowardly Lion is now a Cowardly Bear (Fozzie) And the flying monkeys are now a leather bound biker gang. On the other hand, in some instances this Muppet version does stick more closely to the original source material than the classic 1939 movie. For example, the Good Witch of the North and Glinda are separate characters here. Dorothy's shoes are silver instead of ruby. The Wizard of Oz sees each of the characters (Dorothy and co) individually and in a different form. And Dorothy gains control of the flying biker gang when she defeats the Wicked Witch of the West. Of course there are many more examples for both, especially in terms of Muppet changes. As for the movie well it's a real mixed bag for me. You really don't get a good impression with the way this picture starts. Basically, it's an MTV music video staring Ashanti (Dorothy). A brooding looking Ashanti moping around in black and white trying to look seductive (kids movie!). This intro almost destroys the entire movie because quite simply...what angle are you going for here?? I understand they are trying to make it all hip for the new generation but this is the Wizard of Oz for crying out loud. I honestly thought I was watching something else by mistake. Naturally things start to improve once we get to Oz and start seeing some actual Muppets. Toto has now changed into Pepe which is a huge saving grace because Pepe is a top Muppet and quite frankly Ashanti can't act to save her life. The Munchkins are now played by Rizzo the rat and his rodent friends which was an inspired decision. Kermit is the Scarecrow, Fozzie is the Cowardly Bear, Gonzo is the Tinman/Tin robot, and Piggy is all the witches. So Muppet casting wise its all the predictable big names in the main roles. But I really did like Johnny Fiama (stereotypical Italian American mafioso type) as the Wicked Witch of West's main henchman. Along with the flying biker gang minions typically played by all those random monster type Muppets. Sam Eagle was perfect as the Emerald City Guardian of the Gates. Piggy does a good job of being the evil witch with a somewhat disturbing lean towards being a leather clad dominatrix. The rest put in their usual performances that we've all come to expect. When it comes to set pieces or anything remotely memorable, this movie is lacking. Sure the movie looks pleasing enough with some nice Muppet recreations of classic characters; the sets are attractive and colourful, and the songs are chirpy enough. But nothing really happens here, nothing engages you. The scene where Dorothy and co are poisoned/put to sleep by the poppies has here been turned into some somewhat sleazy nightclub sequence which felt nothing more than an excuse to shove in The Electric Mayhem and Clifford. I'm still not really sure why they changed the Tinman into a robot because it doesn't really make much difference. And the scenes in Oz with the Wizard showcase some of the most God awful CGI you will ever see. Granted this is an oldish movie and the budget may not have been great but by Jove it's horrific. I think the only memorable scene is with Quentin Tarantino who has this bizarre meta sequence where he discusses a plot point with Kermit as it happens (much like [i]Monty Python[/i]) But the only reason why its memorable is because it's so bloody awful. Watching Tarantino overact and restrain himself next to a Muppet is cringeworthy. Its also entirely pointless runtime filler and a way to get a big name into the movie. And speaking of cameos, pretty thin on the ground. Kelly Osbourne is all we get in a sequence that could be deemed somewhat controversial these days (because that's the world we live in now). I must also confess to not really liking the finale. I realise that in the original source material the Wizard turns out to be a fake, but I really didn't like how they 'reimagined' that idea in this movie. Basically exposing Oz to be a Hollywood movie set and the Wizard to merely be a normal everyday actor (Jeffrey Tambor) was kinda depressing really. Its a twist for sure but it also destroys the fantasy. We know the Wizard was a fake but at least keep the world of Oz real. I think what's disappointing here is the wasted opportunity. We know the Henson company can make cracking fantasy adaptations of classic tales ('Christmas Carol' and 'Treasure Island') and this story was ripe for Muppet treatment. But they made (in my opinion) bad choices with casting, designs, plot ideas, and obviously didn't have a proper budget. I mean seriously, what kind of story moral is having Dorothy wanting to ask the Wizard to make her rich and famous. Yeah she changes her mind in the end but it shouldn't have been about that in the first place (I would expect that kind of nauseating idea in the present). Overall this could have been so much more, a real classic like the other Muppet movies mentioned. It has all the elements just waiting to be Muppet mined...but alas!
Phil Hubbs
Super Reviewer
They ruined the movie and the Muppets.
Jim Careter
Super Reviewer
½
the muppets take there ride on the ride with this wizard of oz remake and the result is a wonderful, funny, entertaining, and fun for the whole family film
Michael Edwards
Super Reviewer
The Muppets' Wizard of Oz Quotes
There are no approved quotes yet for this movie.