Bad Timing
(1980)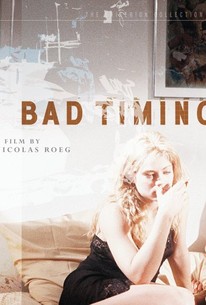 Movie Info
Psychiatrist Alex (Art Garfunkel) becomes sexually obsessed with Milena (Theresa Russell), a woman whom he meets at a party. The pair become involved in an intense and mutually destructive love affair. The drama unfolds in a series of flashbacks, as Alex tells his story to police Inspector Netusil (Harvey Keitel) who is investigating Milena's apparent suicide attempt. Alex's obsession grows, but Milena stays slightly out of reach. Originally rated X, but somewhat toned down to accommodate an R rating, Bad Timing: A Sensual Obsession is an interesting exploration of the nature of sexual passion and jealousy. ~ Linda Rasmussen, Rovi
Critic Reviews for Bad Timing
Audience Reviews for Bad Timing
Wonderfully directed by Roeg with good performances from Harvey Keitel.and Theresa Russell. I'm not a huge fan of Art Garfunkel.
Graham Jones
Super Reviewer
Alex Lindon, an American psychoanalyst, meets the freewheeling Milena in Vienna. We don't know much about them as the film begins. Nicolas Roeg conducts the film in two different, alternate story lines: one, the 'love' story of the two characters; the other, the "present", in which Milena is taken into an emergency room with a medication overdose, as Alex waits outside smoking cigarette after cigarette and reluctantly answering a police inspector's questions.
In Bad Timing, a man and a woman meet and begin a relationship in which neither of them is ever on the same page as the other. Their 'timing', as the title well states, is completely off. Alex and Milena keep secrets from each other, stories about their past, observations about each other. Milena is loud, outgoing and even charming at times, but also unstable, aggressive, extremely nervous, abuses alcohol, and does only what she pleases. She conceals her history from Alex and constantly tries to live in the 'now', forsaking any past or future. Alex, on the other hand, mostly keeps to himself, watching his surrounding with analytical -and menacing- eyes. He is attracted to Milena mostly for lust, and then reaches a point in which the more difficult she becomes, the more obsessed he is. He seems to try to understand her, then he only wants to own her. She wants him to adapt to her terms, and then she wants him back. The truth is they don't get along very well at all. Verbal abuse quickly becomes physical abuse. Then the line between abuse and normal interaction begins to blur.
The reason why this ill relationship begins and sustains itself are never very clear. However, if it were, the film would be too boring and predictable, or it would be like some other "psychosexual" dramas. Bad relationships exist, and the truth is some of them really do last too long, to everyone's bewilderment. Because he more than understands this, instead of hinting at 'complexes' or 'traumas', Roeg relies completely on intrigue and image to keep Bad Timing going.
Art Garfunkel is adequate, although probably not perfect, as Alex. He does at times seem too stiff, even for his uptight character. However, he delivers the climax scene successfully, and that was a relief. Theresa Russell's performance is, in my opinion, a tour de force. She gives Milena a vitality that borders in hysteria and is genuinely awkward at times; she is exactly the way she should be so that her character, although tortured by herself, never quite arises any sympathy. There is another fine performance by Harvey Keitel as the police inspector, a balanced character that also represents a breath of fresh air in the film.
That brings me to another point: the film happens in Vienna, and there appear to be virtually no other American characters. Alex and Milena never go out with friends, never invite another couple to dinner. They are alone, completely alone, in their misery.
The art direction and cinematography of this film is simply stunning. Everything about it is lush and intoxicating, so that such ugly, "sick" things happening in such beautiful surroundings are all the more shocking and uncomfortable to watch. In Bad Timing the rooms are always cluttered, heavily decorated, and messier -although colorful as ever- as things between Alex and Milena become more unhealthy. Details of things, keys, books, liquor bottles, even the characters' clothes, and also the soundtrack, say something and build the film's richness. The editing is also brilliant and carries the double narrative perfectly.
Bad Timing isn't a film for escapism. It's draining and brutally honest. Perhaps in 1980 this was "sick for sick people by sick people"; however I don't think even today there are many other films that combine artistry and emotional power this well. It's the kind of story that could happen to someone that someone you know knows, that you hear about and feel lucky it didn't happen to you. Its characters aren't villains or heroes, they're victims of bad choices. And a lot of bad timing.
½
Bad Timing is not an easy film, but one that rewards effort. Art Garfunkel joins the line (Jagger, Bowie) of singers who produced career best acting performances for this director - the scene of him smoking while staring over a bridge into the abyss of his life is worth buying the dvd alone - and Theresa Russell is simply incendiary. The story is a relatively simple one of how two people who should never have got together become obsessed with each other, but is told in Nicolas Roeg's fluid, labyrinthine style with flashes back and forward and disconcerting edits. The sexual content is extreme for some tastes, but raw and painfully honest in a way which defies simple titillation. Intense work from one of the giants of British and world cinema, now sadly neglected, and one of a string of great films, Performance, Walkabout, Don't Look Now and The Man Who Fell to Earth which mark Nicolas Roeg out as a great director.
Cassandra Maples
Super Reviewer
Bad Timing Quotes
There are no approved quotes yet for this movie.