Frankenstein
(2004)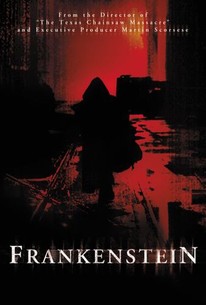 AUDIENCE SCORE
Critic Consensus: No consensus yet.
Movie Info
This made-for-cable Frankenstein was originally intended as the pilot for a weekly series based on Frankenstein: The Prodigal Son, a novel by Dean Koontz and Kevin J. Anderson. The story is set in modern-day New Orleans, the home of demented scientist Dr. Victor Helios (Thomas Kretschmann). Helios is in fact the original Dr. Victor Frankenstein, who has kept himself alive these past 200 years by a series of diabolical genetic experiments. During the same two centuries, Frankenstein has managed to keep alive the original Frankenstein's monster, and has also created dozens of other synthetic humans capable of reinvigorating themselves whenever they are "killed." Of course, the doctor's experiments require that a number of innocent people unwillingly give up their own lives -- and when the bodies start piling up in the Big Easy, detective Carson O'Connor (Parker Posey) and Michael Sloane (Adam Goldberg) start putting the clues together. Ironically, in this story it is Frankenstein who is the villain (in standard serial-killer fashion he tantalizes the cops by planting cryptic clues), while the doctor's main monster is the nominal hero, and a good-looking one at that. Dissatisfied with the finished product, Koontz and Anderson took their names off Frankenstein, as did the project's original executive producer, Martin Scorsese. The unsold pilot film made its USA network bow on October 10, 2004.
Critic Reviews for Frankenstein
Audience Reviews for Frankenstein
Intended as the jump start for a cable series the work suffers from the heavy hand of its young and "edgy" creator who fervently insists that you know who made it, in every single scene. I was getting a bit tired of it by the end. The story didn't help ... lame as well.
Kevin M. Williams
Super Reviewer
Frankenstein Quotes
There are no approved quotes yet for this movie.