Nothing
(2003)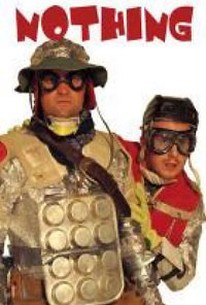 Movie Info
Two roommates fed up with the outside world find that it's easier to avoid responsibility than they thought when a wish to make it all go away comes true in this mysterious tale from Cube director Vincenzo Natali. David (David Hewlett) and Andrew (Andrew Miller) are best friends with a grudge against the outside world. From bill collectors to obnoxious neighbors to a landlord who seems to have it out for the pair, it seems that lately the weight of the entire world is resting on their shoulders. Everyone wishes that their problems would simply just go away, but when that wish actually comes true and the world around them simply begins to disappear, Andrew and David must get to the bottom of the mystery before they too fade into oblivion.
Critic Reviews for Nothing
Audience Reviews for Nothing
This has my vote as 'the Worst Movie Ever Made.' It takes a lot of effort to put something this crappy together.
Gregory Dark
Super Reviewer
½
Two losers, who live underneath an overpass at the junction of two highways, discover they have the power to wish the world away, leaving... nothing. A clever script pushes the simple premise and two character dynamic as far as it can go; this is probably as good a movie about nothing as you'll ever see.
An initially interesting movie concerning the concept of hatred and what would happen if certain things we hated simply went away. This film is an uneven mesh of slapstick comedy combined with a plot that can only go so long before bogging down and losing the audience's interest. I liked the fact that Natali kept his "Cube" themes of "where are we" and "why are we here" intact, but the delivery could've been better. The ending is a confusing one too, it starts out funny, then descends into sappy "bro-mance" territory that doesn't fit the movie's general theme of weird humor. If you want to see Natali at his best, stick with "Cube".
Dan Schultz
Super Reviewer
Nothing Quotes
There are no approved quotes yet for this movie.