Omagh
(2004)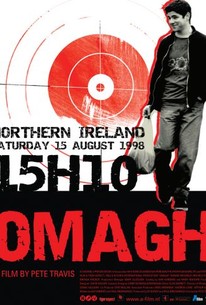 Movie Info
A devastated father struggles to find answers after a bomb detonated in the peaceful Irish town of Omagh claims the life of his twenty-one year-old son in this topical docudrama from writer/producer Paul Greengrass and director Pete Travis. In 1988 a group who referred to themselves as the "Real IRA" set a bomb that took the lives of thirty-one people in the Northern Ireland town of Omagh. In the aftermath of the explosion, soft-spoken mechanic Michael Gallagher (Gerard McSorley) was forever changed by the loss of his twenty-one year-old son. Determined not to let the same grim fate befall his neighbors, Gallagher took it upon himself to become the official spokesperson for the victim's families, challenging the government's official stand on terrorism and providing a voice for the grief-stricken families of the innocent victims killed in the blast.
Audience Reviews for Omagh
A great addition to the canon of films that deal with the Troubles. Explores the often unattainable peace that an individual needs to find in light of a life changing tragedy and the courage that can emerge.
John Ballantine
Super Reviewer
½
With an eerily prescient line of dialogue, "Omagh" is a devastating dramatization of a terrorist bombing by the Real IRA on August 15, 1998, killing 29 and injuring countless others. The terrorists only do this to make a point in a town in Northern Ireland where everybody else has learned to live in peace. The movie starts on the morning with unbearable suspense, as the terrorists move into position to the town which is frequented by townspeople going about their business unaware. There is a warning but miscommunication leads to the people being evacuated in the wrong direction. And a lot of the film is spent exploring the authorities' mishandling of the tragedy. Remember that the government's role is to protect its citizens against threats like this. "Omagh" uses its handheld camerawork and jump cuts to tell a powerfully personal story. Michael Gallagher(Gerald McSorley, who is superb) frantically searches for his son Aiden(Paul Kelly), who had gone into town to buy a pair of jeans, in the wake of the explosion. Later, after he buries his son, he becomes an accidental activist, using his eloquent voice to unite the victims' families, as the pain never quite goes away. However, in the search for answers, Michael is in danger of losing sight of what is truly important.
Omagh Quotes
There are no approved quotes yet for this movie.