Hellbent
(2005)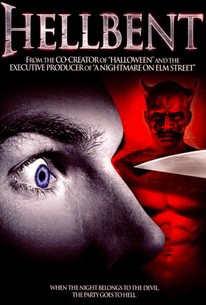 Movie Info
Capturing the essence of the Halloween Carnival, 'Hellbent' follows four young men through a night where flamboyant costumes, beautiful people, drugs, music, dancing and sex are everywhere. Authentic footage from the West Hollywood Halloween Carnival lets filmgoers experience the most exciting night of the year.
Critic Reviews for Hellbent
Audience Reviews for Hellbent
½
Interesting setting and characters. Terrible plot and serial killer. So a serial killer that stalks this group of gay friends and killing them one by one... No motivation what so ever. It's a melodramatic slasher with some gay twists.
Sylvester Kuo
Super Reviewer
½
Did taking place amid the gay scene in Hollywood make a difference with this slasher film? No, no it didn't. It spends so much time exercising the gay angle of the film that it forgets to be a slasher. Or entertaining. Pass on it.
½
A surprisingly effective slasher flick - the meagre budget often shows, but Hellbent has been made with a fair amount of conviction and has some very effective moments. The usual trapping and clichés of the genre are in evidence but there's some nicely skewed sequences. The 'First Gay Slasher' badge doesn't really add to much in and of itself except add a bit of novelty value, but there's a genius use of a character's disability in the final showdown and the leads are affable. It's also very funny in parts and nicely paced. Decent.
Daniel Parsons
Super Reviewer
Hellbent Quotes
There are no approved quotes yet for this movie.