Venom
(2005)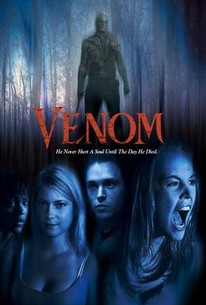 TOMATOMETER
AUDIENCE SCORE
Critic Consensus: A voodoo horror flick without the mojo, Venom is chock full of gory impalings of interchangeable teenage girls and hunky guys by an unstoppable zombie whose unimaginative rampage quickly lulls us to sleep.
Movie Info
This voodoo horror tale, set deep in the swamps of Louisiana, centers around a group of teenagers, who are trying to uncover the truth behind a friend's mysterious death. What they discover is an evil force worse than anything they could have possibly imagined. Now, they are running for their lives.
News & Interviews for Venom
Audience Reviews for Venom
boring film & considering the talent behind the scenes this is a major disappointment for horror buffs. the story isn't anything to write home about and how this film was green lit is beyond me. all the characters are poorly written and the direction is just flat
Brendan O'Connor
Super Reviewer
½
Cast:Agnes Bruckner, Jonathan Jackson, Meagan Good, Bijou Phillips, Method Man, Laura Ramsey, Pawel Szajda, James Pickens Jr., Rick Cramer, D.J. Cotrona, Stacey Travis Director:Jim Gillespie Summary: Exploring the murky swamps outside New Orleans, a group of young people (including Agnes Bruckner, Method Man, Bijou Phillips, Meagan Good and Jonathan Jackson) don't expect to have company. But they meet Mr. Jangles, a madman who's possessed by 13 unlucky souls killed by a voodoo priestess and who now spends his time hunting victims. With each new body, he adds a key to his ring of death -- and an extra jangle to his calling card. My Thoughts: "This is one of those classic low-budget scary films that delivers some jumps but no scares. The acting is as mediocre as the writing. The directing wasn't so bad. The movie really wasn't that bad either. It kept up a good pace and held my attention. It did have a creepy feel to the film which helped, and some good gore as well. I definitely jumped more then a few times. Any fan of scary flicks will appreciate the effort this film gives. Worth seeing at least once."
♥˩ƳИИ ƜѲѲƉƧ♥
Super Reviewer
½
How bad was Venom? It was so bad, that they couldn't even get things to jump out and scare you at the right time! It absolutely kills me! The story is fairly original with definite potential, the cast is fairly well known, and the movie was just awful! Why? Take your pick between bad writing, cheap special effects, no character development, and a really stupid ending. I like the whole Louisiana Creole background and the mysterious voodoo religion, that no one believe in anymore, but they just didn't take it anywhere. It's 15 minutes of interesting and an hour and 15 minutes of cheesy slasher bull shit, with typical lines, no eye candy, no comedy, nothing! It was quite boring and the ending just... wow! I don't know if it was rushed or if they just didn't care, but it was so fucking stupid!! Venom could have been a lot more, but it wasn't anything worthwhile.
Todd Smith
Super Reviewer
Venom Quotes
There are no approved quotes yet for this movie.