Nine Lives
(2005)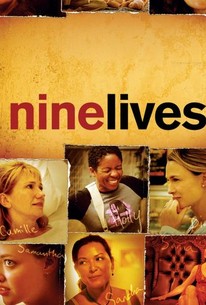 Movie Info
Filmmaker Rodrigo García takes an unusual look into the lives of nine different women in this episodic drama. Each of the film's nine sequences has been staged as a single shot, using the Steadicam system to allow the camera to follow the action fluidly and without cuts. In these short episodes (lasting between ten and 14 minutes), Holly (Lisa Gay Hamilton) has a brief moment of reverie while confronting the specters of her past in her old neighborhood. Maggie (Glenn Close) escorts her young daughter Maria (Dakota Fanning) to a cemetery as they visit the graves of their family members. Ruth (Sissy Spacek) is a married woman contemplating an affair while visiting Henry (Aidan Quinn) in his hotel room. Diana (Robin Wright Penn) unexpectedly runs into an old boyfriend, Damian (Jason Isaacs), while shopping for groceries. Camilla (Kathy Baker) is a hospital patient awaiting surgery for cancer. Samantha (Amanda Seyfried) is a teenage girl who helps look after her handicapped father Larry (Ian McShane). Sandra (Elpidia Carrillo) is a female prison inmate who is expecting a visit from her children. Sonia (Holly Hunter) lashes out at her boyfriend Martin (Stephen Dillane) when she finds out he's been cheating on her. And Lorna (Amy Brenneman) has an unexpectedly moving encounter with her ex-husband Andrew (William Fichtner) as she pays her respects to his second wife, who has just passed away. Nine Lives premiered at the 2005 Sundance Film Festival.
Critic Reviews for Nine Lives
Audience Reviews for Nine Lives
½
Let's gather the best possible talent we can and then put them in the most aimless, depressing situations that have no resolution that we can. UGH! Would be one star if not for the talent involved.
The concept is not original at all, that's probably why it has such a low average. If you've seen Crash and Magnolia and you liked it, than I don't see why you wouldn't like this one. Some good solid acting and 'drama for your mama'.
Couldn't keep my attention very well. Although, like most movies filmed this way... I like to watch how the stories intertwine.
Leigh Ryan
Super Reviewer