Good Night, And Good Luck
(2005)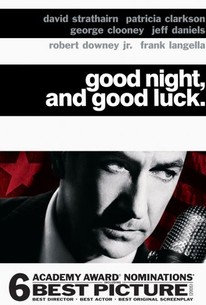 TOMATOMETER
AUDIENCE SCORE
Critic Consensus: A passionate and concise cinematic civics lesson, Good Night, And Good Luck has plenty to say about today's political and cultural climate, and its ensemble cast is stellar.
Good Night, And Good Luck Photos
Movie Info
In the mid-1950's Edward R. Murrow and his producer, Fred Friendly, help bring an end to the tyranny of the blacklist and the House Un-American Activities Committee's anti-Communist hearings. With the platform provided by his CBS News program "See It Now," Murrow challenges Joseph McCarthy on his claims that hundreds of avowed Communists are working covertly as Soviet spies in the U.S. government, among other allegations, and that they have the power to destroy lives and careers.
Critic Reviews for Good Night, And Good Luck
Audience Reviews for Good Night, And Good Luck
George Clooney's "Good Night, and Good Luck." is a striking take on the cultural and political climate of the 1950s. Using aesthetic elements, strong dialogue and well-rounded performances from a star-studded cast, the film makes for a powerful depiction of society then & now. 4/5
Eugene Bernabe
Super Reviewer
½
A brilliant depiction of a controversial chapter of American history. Wonderful direction quick script and an excellent performance by David Strathairn. Contains tiny little flaws such as; parts of the plot are a little unclear-other than that well worth the watch.
Sarah Gaish
Super Reviewer
"We will not walk in fear of one another." Broadcast journalist Edward R. Murrow looks to bring down Senator Joseph McCarthy.
REVIEW
Good Night, and Good Luck is a brilliant piece of film making, a film that recreates a period in American history when gossip mongers and fear exploiters took the lead for a terrifying few years that threatened to extinguish civil rights forever. Not unlike now! And that is one reason this film carries so much resonance: the story of the bravery of popular news reporter Edward R. Morrow (David Strathairn) and his associates Fred Friendly (George Clooney), Joe and Shirley Wershba (Robert Downey, Jr. and Patricia Clarkson), William Paley (Frank Langella) and the crew at CBS is one that begs for re-creation in the way the news is reported, analyzed, and serves the rights of the public to be truly informed. The story is the 1950s McCarthyism Communist Hunting that terrified the country unchecked until Morrow et al challenged the Senator's accusations and methodology by simply quoting the statements McCarthy made in the television series See It Now. Morrow and his associates did not elect to smear McCarthy: they instead elected to bring to the public's quivering attention just what the sick mind of McCarthy was doing to innocent people. It was an act of bravery on Morrow's part and on the part of everyone connected with See It Now. George Clooney continues to impress as a quiet, subtle voice who doesn't seek the limelight for his brilliant mind, but rather uses it to enter the arena of emerging patriots - the good kind. He wrote the script with Grant Heslov after much research and investigation and then gathered a gifted crew of actors (including himself) and directed the film using the atmosphere of black and white photography (credit cinematographer Robert Elswit) in the almost exclusively interior claustrophobic set of the television station to give the ring of honesty that pulsates this story to its powerful end. Strathairn is brilliant as Morrow, but then so are all the cast members in this ensemble effort.
Lorenzo von Matterhorn
Super Reviewer
Good Night, And Good Luck Quotes
| | |
| --- | --- |
| Edward R. Murrow: | We're gonna go with the story, because the terror is in this room. |
| | |
| --- | --- |
| Joe Wershba: | Mr. Murrow is a true blooded American, everyone knows that. |
| | |
| --- | --- |
| Jessie Zousmer: | The senate's investigating McCarthy! |
| | |
| --- | --- |
| Edward R. Murrow: | You always were yellea. |
| Fred Friendly: | Yeah well it's better than being red. |