Strangers with Candy
(2005)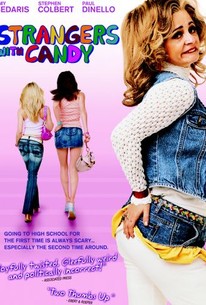 TOMATOMETER
AUDIENCE SCORE
Critic Consensus: Occasionally funny, but little more than a jumbled, overextended episode of the TV show. Still, Candy devotees won't be disappointed.
Strangers with Candy Photos
Movie Info
The cult-favorite television series which offered a fun-house version of '70s "after-school specials" returns in this big-screen prequel to the show Strangers With Candy. Middle-aged ex-prostitute, former drug addict and all-around lowlife Jerri Blank (Amy Sedaris) emerges from prison at the age of 46 ready to start her life over again. Jerri arrives at her parents' home to discover that her father Guy (Dan Hedaya) divorced Jerri's mom and remarried before slipping into a coma. Jerri's stepmom Sara (Deborah Rush) decides to let her stay with the family in the hope her presence might bring Guy around, though she doesn't seem very fond of her new "daughter." Jerri decides to complete the education she abandoned years ago by enrolling at Flatpoint High School, where Principal Blackman (Greg Hollimon) has bigger fish to fry than a middle-aged sex offender as a student. It seems Flatpoint's science scores have been dreadful, and only a first-place entry in the county science fair will maintain the school's accreditation. Science fair guru Roger Beekman (Matthew Broderick) is brought in with hopes of creating a winning project, but science teacher Mr. Noblet (Stephen Colbert) objects to using outside talent and starts a separate team of his own, bringing in Jerri to give her something to do. As it happens, Noblet's team comes up with a potential prize-winner with their Soup Can Superconductor, while Beekman foolishly accepts the help of art teacher Mr. Jellineck (Paul Dinello) and ends up with a dance routine instead of a science presentation. Determined to win out over Noblet's team, Beekman tries to get his hand on the plans for Noblet's project by convincing handsome Brason (Chris Pratt) to charm them away from weak-willed Jerri. Strangers With Candy also features cameo appearances from Philip Seymour Hoffman, Allison Janney, Ian Holm, and Kristen Johnston. ~ Mark Deming, Rovi
Critic Reviews for Strangers with Candy
Audience Reviews for Strangers with Candy
½
Hilarious in a Tracy Ulman kind of way...only better. I laughed often and heartily at this over-the-top, crazy comedy.
Christian C
Super Reviewer
Strangers With Candy is a decent comedy. The film boasts a decent cast as well. Strangers With Candy has some laughs here and there, but as a good comedy, it never succeeds at being anything other than decent. I felt that the films weakness was that it tried to hard at making you laugh, for me a comedy should be effortless at making you laugh. Strangers With Candy is funny, but at times the jokes fall flat and are boring. The film does make you laugh, but by the films end, you realize that this film could have much better. There was a good cast of comedic talent at work here, and I'm actually quite surprised that this was the best they could do. The results are decent and there is nothing really great about the film. I thought that the film was fairly forgettable, and is the type of film that you need to see only once. This is not a film that demands repeated viewings. Stephen Colbert was the funniest aspect of this film, and he definitely made the film a bit more watchable. But like I said, the film is decent and has a few good laughs, but the film takes its time to build up, and keep the laughs moving along. This film had so much potential, however half the way it's very boring. Worth watching once, and you can forget about it, there's nothing really effective at work. This is simply a decent film that could have been much better than this.
½
Ewww...kay. This is a movie where a bunch of action I don't care about is held together by characters I really don't like. Amy Sedaris is a pretty good actress and more power to her for happily obliterating her natural beauty with frumy makeup, but the character she created isn't worth watching. She's boring, vain, flippantly cruel, self-centered and stupid. Every main character - the ones you're supposed to pay attention to - are all horrible people, and the only ones that aren't are only there to get treated like hell for comedic value. This just does not float my boat.
Emily Armstrong
Super Reviewer
Strangers with Candy Quotes
There are no approved quotes yet for this movie.